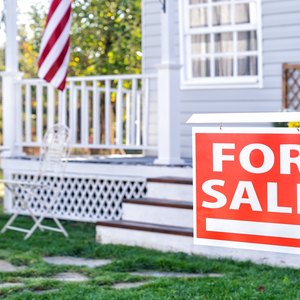 •••
valentinrussanov/iStock/GettyImages
Your house has probably appreciated in value, and you'd like to sell and use the equity to upgrade. However, selling a house takes time and planning and the costs can be more than you think. According to Zillow, it takes about seven months to prepare a house for sale and another three months after it's listed to find a buyer.
On average, a seller will spend about 10 percent of the home sale price of the house on selling costs. The largest part of that figure is the realtor or real estate agent's commission fee, but the seller will also have expenses for home preparation, staging, closing costs, seller's concession and moving.
Here's a breakdown of the home selling costs an owner usually has to pay when selling their house.
Home Selling Preparations
You want to get the highest price you can for your house, so you want it to look its best. These are the areas you need to look at to make your house appealing to potential buyers.
​Landscaping​ - You've heard about the importance of "curb appeal," so now is the time to take advantage of your home's landscaping to create a favorable first impression. Have the bushes trimmed and the lawn freshly mowed. Add flowering plants if you don't have any. If you don't have to make substantial additions to your yard, you'll probably spend $300 to $500 sprucing up the lawn.
​Home inspection​ - Have your home inspected before you list it for sale. That way you can find out if there are any home repairs, such as plumbing or roof leaks, that need to be completed before you try to sell your house. It's better to find out if you have any problems before you have a buyer and their inspection turns up some problem areas. A home inspection will cost from $300 to $400.
​Cleaning -​ Hire a housecleaning service to do a deep clean and wash the windows. Have a professional service clean the carpets. Depending on the size of your house and the area, the average cost of cleaning services will be $200 to $300.
​Home staging​ - Staging your house is about cleaning up the clutter and arranging the furniture to make the best use of the space. It means paying attention to the small things, like maybe adding new bath towels, buying a fresh doormat and putting a vase of real flowers on the dining room table.
You could also hire a professional stager. These designers know what buyers are looking for in a house and can rearrange your house to make it look more appealing. You can hire one for a one-time consultation for a few hundred dollars to come in and make suggestions.
​Interior painting​ - Nothing makes a house look better than a coat of fresh paint in neutral colors. Dirty walls and odd colors will turn off many potential home buyers. Newly painted walls will give the impression that your home has been taken care of and improve your home's value. Figure on spending from $1,000 to $1,500 to hire a professional painter.
​Home repairs and improvements -​ If you've lived in your house for a few years, you probably know a few areas that need minor repairs or home improvements. It could be a toilet that runs, loose or chipped caulking around windows and doors or gutters that have leaves hanging over and need cleaning. A new homeowner doesn't want to come in and have to start making these kinds of annoying repairs, so take care of these problems before listing your house. You can either DIY or hire someone to take care of it.
​Professional photos -​ Professional photos are much better than pictures you take on your cell phone. You'll spend around $200 to $500 to have a professional take photographs that highlight the best features of your house.
​Marketing costs​ - Your real estate agent will usually cover marketing costs, such as listing on MLS and printing flyers for open house showings.
Seller Concessions
If you're in a buyer's market, meaning there are a lot of houses competing with yours for sale, you may have to make some concessions to the buyers in order to sell your house. Here are a few things you can offer the buyer to make your house more enticing and maximize your home's sale price.
​Home sellers warrant​y - One way to make the sale of your house more attractive is an offer to purchase a home warranty for the buyer. Very few other houses for sale will offer this product, and it will give buyers confidence about the quality of your house. You can purchase a one-year home warranty for around $300 to $500.
​Credits for buyer's closing costs​ - Depending on the intensity of the market, a seller could offer to give a credit or pay some of the buyer's closing costs. When a seller pays closing costs, it reduces the cash a buyer will need to have for closing at the end of the real estate transaction.
Seller's Closing Costs
Although buyers have a number of closing costs to pay, the seller is also responsible for a few closing costs.
​Real estate agent commissions​ - The largest cost to sell your house will be the commission paid to your agent. On average, this commission is around 6 percent of your property's selling price. The commission will get split with 3 percent going to your real estate agent and 3 percent going to the buyer's agent.
​Title insurance for buyer​ - The seller is typically responsible for providing title insurance in the form of a title insurance policy for the buyer. The cost will go from $600 to $1,000, depending on the new owner's purchase price for the house.
​Attorney fees​ - You'll want to have your own attorney review the closing documents for your protection. A lawyer will charge roughly $500 to $1,000, plus any recording fees.
​Pay remaining mortgage balance​ - The payoff amount, or remaining balance, on the mortgage is the seller's responsibility. You'll subtract the mortgage payoff balance from the sales price, and this will be your equity that you can use to buy another house. However, if you're not purchasing another house within the timeline set by the Internal Revenue Service, you may not be entitled to the capital gains exclusion and could be subject to capital gains taxes.
​Transfer taxes​ - Some states and local municipalities charge a transfer tax when a property changes ownership. The amount varies widely by state. Some states may only charge a few dollars while high-cost states may charge $2,000 to $3,000.
​Escrow fees​ - The escrow agent or title company that handles the closing will charge a flat fee between $500 and $2,000. The fee is usually around 1 percent of the sale price of the property, and is typically split 50-50 between the buyer and seller.
References
Writer Bio
James Woodruff has been a management consultant to more than 1,000 small businesses. As a senior management consultant and owner, he used his technical expertise to conduct an analysis of a company's operational, financial and business management issues. James has been writing business and finance related topics for work.chron, bizfluent.com, smallbusiness.chron.com and e-commerce websites since 2007. He graduated from Georgia Tech with a Bachelor of Mechanical Engineering and received an MBA from Columbia University.