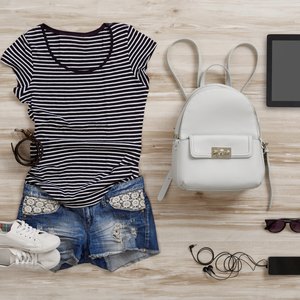 •••
goir/iStock/GettyImages
Having that put-together look takes time and effort. Working long hours doesn't leave much time for being a fashionista. And the expense of staying up to date on the trends could leave you short on cash. That's where online personal styling comes in. So, put your hand on the mouse, point and click, to find out how online personal styling can help you.
Personal Styling Services
In the past, there was only one choice for a personal stylist. They would come to your home, ask questions and rummage through your closets. If they worked remotely, you would send them pictures of your clothes. They would then go to the stores and shop for you.
These personal stylists still exist and are an option.
The average personal stylist costs $50 to $75 an hour. In the bigger cities, the cost can go as high as ​$400 an hour​. Plus, you must pay for the clothes purchased. This adds up fast.
But the personal styling landscape has changed and there's another choice. There's now online personal styling.
What Is Online Personal Styling?
If you can't afford a personal shopper, online personal styling is an economic alternative. It's cost-saving not just from a monetary perspective but from a time perspective.
Going from store to store and trying on clothes takes time. Online personal styling eliminates that chore. With online personal styling, you have a human stylist merging with a computer algorithm. Between the two, they choose clothing that:
fits your style
is tailored to your body
works with your body
Artificial intelligence (AI) works with the human stylist to develop ideas and recommendations that fit your clothing choices. When selecting an outfit, AI takes your provided data into account. The human stylist puts the data in context.
AI helps the human stylist be objective with the fashion choices made for you. It removes the stylist's personal bias. The AI's algorithms take your information and key in on what is right for you.
The human stylist takes all this information and puts it into context. For example, your information lets the AI know what type of dress or suit you like. Additionally, you have noted that there's a special cocktail party or wedding to attend. The human stylist takes that specific information and weighs it along with the AI recommendations to come up with a solution for your clothing needs.
AI Uses Info From Style Quiz
The AI gathers information about your body shape and tastes through a style quiz. The AI then takes the answers and determines what clothing and accessories will fit your wants and needs. Different styling services have various multiple-choice questions to gather this information, but they generally consist of questions like:
What is your body type?
What is your personality type?
What is the key clothing piece in your wardrobe?
What is your go-to jacket or dress?
Who is your favorite celebrity?
What is your favorite color?
Many style quizzes have around 35 questions. When taking a style quiz, it's a good idea to know some basics about your style and body before diving into the questions. Do a little planning and research before taking the quiz.
Determine Your Body Type
Many style quizzes will ask about your body type. There are several body types. These shapes include:
​hourglass:​ defined waist
​triangle:​ also known as pear shape, waist and bust are more narrow than hips
​rectangle:​ equal bust and hips, straight waist
​oval:​ bust and hips smaller than waist
​inverted triangle:​ shoulders wider than hips
There are three ways to determine your body type. Keep in mind for the best results, you should use all three methods.
One method is the old-fashioned mirror. Stand in front of a full-length mirror and take an objective look at yourself. Don't judge, just look at your shape. Are your shoulders wide or are your hips wide? Remember, you want to find the clothes that accentuate the attributes of your shape.
Another method is using a tape measure. Once you've looked in the mirror, measure your bust, waist and hips. This will confirm what the mirror has shown. And finally, try on your clothes. What type of clothing fits you the best? What's comfortable and looks good?
Knowing your body type will go a long way in taking the quiz. It will give the AI key pieces of information when determining clothing and accessory choices.
Know Your Style for the Quiz
Whether it's activewear, athleisure or dressy casual, it's important to know how your clothing tastes run. Many subscription box services' quizzes try to hone in on your personal style. There are usually several questions referring to style preferences, which will give the AI the information needed to choose clothing that more than works for you. There are ways to figure out what you like. A little research when determining your style goes a long way. Use these four methods:
1. ​Explore your closet:​ Look to your closet. Think about what clothes or outfits make you feel good. What inspires you? Look at your go-to pieces and think about what you wear all the time.
2. ​Watch what friends wear:​ Do you have a friend whose taste you admire? Observe what types of clothes they choose. How does what they wear match your personality and body type?
3. ​Use social media for inspiration:​ What are your favorite celebrities wearing? Determine what style of apparel attracts you to them. Who wows you and who do you admire?
4. ​Get fashion advice from blogs:​ you'll see not only clothing types but explanations as to how they fit.
After you've done your research, take a look at your lifestyle. If you're the athletic type, you may not want girly clothes. A preppy conservative taste isn't going to go for a bohemian look. What makes you feel comfortable?
By gathering all this information before you take the style quiz, you'll be able to give the AI and human stylist an accurate description of what your likes and needs are.
Online Styling Services Monthly Cost
Don't restrict yourself when online shopping. You have options that are fun and in most cases economical. Numerous personal online styling services exist. But most of the pricing, with a few exceptions, is within the same price range. For a ​$20 to $25​ styling fee, the online styling service will send you monthly clothing suggestions. These clothing items are the result of your answers on the style quiz. You can try these clothes on in comfort and privacy.
If you decide to purchase any of the clothing, the styling fee will be deducted from the clothes' cost. In addition, most services will give a discount if you purchase all of the items in that shipment.
Three Online Styling Services Players
There are several major players in the online styling services arena ready to cater to your style preferences. The top three are:
These three target different population segments.
1. Stitch Fix More Economic
Stitch Fix caters to the busy woman on a budget. It's a subscription box service that has several brands and categories. There are three steps to take:
1. ​Fill out style quiz:​ give lifestyle preferences, budget and style
2. ​Styled:​ five hand chosen pieces delivered to your home monthly or quarterly (no commitment is necessary)
3. ​Buy what you want:​ shipping and returns are no charge
The clothing price point starts at ​$25​, and you'll have three days to try them on and decide before having to return the merchandise. There's a ​$20 style fee​ that is credited toward your clothes purchase.
2. Dia & Co Caters to Plus Size
Good-looking plus-size clothing can be a challenge to find. Dia & Co stylists work with these plus-size customers in determining their body type. Their three steps include:
1. ​Choose a Dia box:​ pick between style box and active box
2. ​Fill out style quiz:​ determines your fit and style
3. ​Receive box:​ five chosen pieces arrive at your door
Dia & Co also has special boxes like fall box and sweater box, depending on the season.
3. Trunk Club – Stylish but Pricey
Owned by Nordstrom, Trunk Club has quality merchandise. Because it is a little better quality, it also has a bigger price tag. Trunk Club has both women sizes and men sizes. Their three steps are:
1. ​Fill out profile:​ available both online or on an app. ios and android compatible
2. ​Fill out style quiz:​ will work with your body type and tastes
3. ​Receive trunk:​ keep and try on clothes for five calendar days
You can use your Nordstrom credit card with Trunk Club and earn points. The styling fee is ​$25​, which is credited to the purchase of any pieces. With the Nordstrom credit card, the styling fee is waived.
Pros of Online Personal Styling
Online personal styling has been growing in popularity. But what exactly are the benefits of having someone choose your clothes?
The biggest benefit is saving time. If you work long hours or have a long commute, you probably don't have time to spend hours going from store to store. You need that white shirt, but who has the time and energy to find it?
Another pro is trying on clothes in the comfort of your bedroom. You can move around in these new clothes. This allows time to see if you look good and they fit well. You'll make smarter decisions, and it diminishes the next-day-buyer's regret.
One great advantage is matching your styled clothes with what's in your closet. Does the new pink blouse go with those hard-to-match gray slacks? You'll be able to try your old standbys on with new pairings. This gives you the opportunity to create multiple outfits. As a result, it stretches your clothes budget further.
Cons of Online Personal Styling
With all the advantages, there is a downside to using online personal styling. It's not for everyone. Before you commit to a subscription plan, try one and see if it meets your expectations.
The key to the AI and human stylist choosing pieces that work comes down to you. You must know your body well when it comes to filling out the style quiz. If you say your body shape is hourglass and in reality, you're a triangle shape, you're going to be disappointed in the selections.
This is also true for style. You think you want to be bohemian but if T-shirts and jeans are more your style, you might end up with a box loaded with clothes that just don't interest you.
Do you have a packed closet full of clothes you don't wear? Adding more without a plan may be a waste of money. A plan is key. It's never good to buy something just to buy it.
If you don't buy any of the clothes, you're out the style fee.
Bottom Line
AI and a human stylist are a great combination when it comes to finding fashionable clothing that fits a person's needs. But the key to making it come together is knowing your body and style.
You must fill out the style quiz honestly and thoroughly to receive the full benefit of the AI and stylist. When this all comes together, you'll make life easier by having a convenient and simple way of always looking fabulous.
References
Writer Bio
Anne attended University of Akron and went on to have a career in television sales. Working as a commercial property and casualty insurance agent for nine years allowed her to learn about different businesses' needs. She has also owned an advertising agency where she created marketing capaigns for various clients. Anne has written for several publications. She currently resides in Charleston, SC.