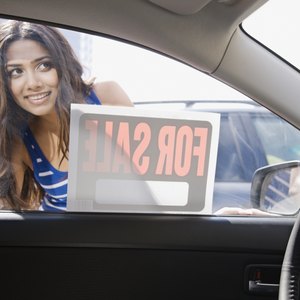 •••
JGI/Jamie Grill/Tetra images/GettyImages
Buying a used car can be a nerve-wracking experience if you're not prepared. But it doesn't have to be. Here are the steps to follow to organize your used car search and find a reliable, affordable car that will serve you well for several years.
Set Up a Budget
How much can you afford to pay for a car - ​$10,000, $20,000 or $30,000​? If you're planning on borrowing the money to buy a car, how much can your budget afford for a monthly payment and the additional expenses that come with owning a car?
The general rule is that you should not spend more than ​10 percent​ of your net income on your car payment. For example, if your gross annual income is ​$65,000​, your net income per month would be around ​$4,300​ after deductions for taxes. Therefore, your monthly car payment should not be more than ​$430​.
Your total monthly expenses, including loan payment, gas, insurance and maintenance, shouldn't exceed ​20 percent​ of your net monthly pay.
Get Your Financing Approved Before Your Search
To find out how much you can borrow, use this car affordability calculator. Let's assume you have a prime credit rating. According to the calculator, you could obtain a ​five-year loan​ up to ​$22,300​ with a loan payment of ​$430​ per month. If you have enough cash to make a ​$3,000​ down payment, then you could afford a ​$25,000​ car.
You should aim to put at least ​10 percent​ down on whichever car you select.
Make Up a Target List and Check Prices
Your goal is to find a car that meets your needs. Read car reviews to help you narrow your search to a specific make and type of vehicle. Do you need a three-seat crossover SUV, a sporty two-seater, a hybrid or are you looking to treat yourself to a nice luxury sedan?
Whichever your choice, check the maintenance frequency and reliability records of your target model and type. The yearly April automobile issue of Consumer Reports is one of the best references with extensive records of repair history for any model available.
Use online sites such as Kelley Blue Book, CarMax and Edmunds to check market prices for the car you want in your area. Each of these sites has cars listed by price and type.
Begin Your Search
Buying a used vehicle is not as simple as buying a new car. When you're buying a new car, you simply decide which model and options you want and go to the dealership to pick your car. With a used car, car buyers need to find the right car for sale that's in good shape, has low mileage and has been properly maintained by the owner. And it should be within a reasonable driving distance.
Start your search with the car listings online. Check sites such as Craigslist, AutoTrader, CarMax, AutoList and CarGurus. You can get a lot of information about the vehicles that are available in your area and their prices without having to physically see one.
Consider Dealer-Certified Pre-Owned Cars
An alternative to a private party seller is a dealership that sells dealer-certified pre-owned (CPO) cars. These are usually low-mileage cars with excellent service records and no accident histories. CPOs may be vehicles coming off leases or cars that were used as dealership loaner vehicles.
CPOs combine the affordability of a used car with a continuation of manufacturer warranty coverage. A dealer conducts a comprehensive inspection of the vehicle and refurbishes it to meet the strict guidelines of the automaker. In addition, the dealer may offer such extra benefits as roadside assistance and special low-interest rate financing.
The downside to CPOs is that they typically cost slightly more than the price you might get from a private seller. However, you do get the comfort of knowing more than the reading on the odometer. You know the car is in excellent shape when you drive it off the dealer's lot, and that you have a few years of a manufacturer's warranty.
Get a Vehicle History Report
Do not overlook this step. Order a CARFAX or AutoCheck report to get the history and accident report for the vehicle identification number (VIN) of the car you're considering. Some sellers, especially private parties, will not share this information with you, and you could make a big mistake by not checking the car's history.
Dealerships typically make a car's history report readily available to you. However, if you're negotiating with a private seller, you may have to pay for the report out of your pocket.
Test Drive the Vehicle
Take the vehicle for a test drive. Get behind the steering wheel and see how it feels to drive. Test its acceleration and steering.
Check out the comfort and cosmetics of the vehicle, too. For example, look for chipped and faded paint, torn seats, and tires with worn-out treads. Make sure the heat and air conditioning work and adjust the mirrors to make sure the controls position them properly.
Is the seat comfortable? Does it adjust to your preferred driving position?
Turn the radio on to make sure it's working, and then turn it off so that you can hear if the car is making any odd noises.
Have the Car Inspected
If you're considering purchasing a car from a private party seller, you should have the vehicle inspected by a licensed mechanic. Private sellers may not be wholly truthful about the condition and history of the vehicle, and only a qualified mechanic can locate and identify any problems.
If you're buying a CPO from a dealer, you won't have to worry as much about the inspection.
Negotiate the Price
If you've done your homework, then you already have an idea of a fair market price for the car you want to buy. Start off by offering a few hundred dollars below the price that you want to pay and expect the seller to make a counteroffer.
However the negotiations go, don't pay more than you believe is a fair price for the vehicle. You have to be prepared to walk away if you and the seller cannot come to an agreement on a price.
If you're purchasing the car from a dealership and are trading in an old car, make the negotiations for the trade-in value a separate discussion. Figures have a way of getting confusing when both transactions are combined.
Complete Paperwork
Now for the paperwork. If you're buying your car from a private party, you need to get a bill of sale. You can probably find this form online at your state's Department of Motor Vehicles.
Make sure to take possession of the title and registration for the vehicle. Verify that the information on these forms is correct.
Finally, as the final step in the buying process, add the vehicle to your insurance policy. Then, enjoy your new ride.
References
Writer Bio
James Woodruff has been a management consultant to more than 1,000 small businesses. As a senior management consultant and owner, he used his technical expertise to conduct an analysis of a company's operational, financial and business management issues. James has been writing business and finance related topics for work.chron, bizfluent.com, smallbusiness.chron.com and e-commerce websites since 2007. He graduated from Georgia Tech with a Bachelor of Mechanical Engineering and received an MBA from Columbia University.