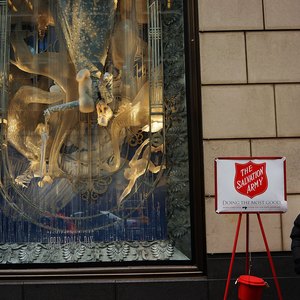 •••
Spencer Platt/Getty Images News/Getty Images
Recognized throughout the world for its humanitarian work, thrift shops and red donation kettles, the Salvation Army is an evangelical Christian church. Its mission is to preach the gospel of Jesus Christ while helping others without discrimination. Because they work on the front lines where people are in need or are suffering, Salvation workers refer to themselves as soldiers and use a military hierarchy.
Origin of the Salvation Army's Purpose
Understanding the Salvation Army's origins helps you to see its continuing purpose. In 1852, William Booth began preaching to the poor and destitute on the streets of London. Those he converted to Christianity, shunned by established churches at the time, also began to preach in the streets while helping the poor. At first, they called themselves a volunteer army, which Booth renamed a "Salvation Army" in 1878. While facing violence and persecution, more than 250,000 people were converted under the Salvation Army in the United Kingdom by 1885. The first meeting of the Salvation Army in the United States was held in Philadelphia in 1879.
Purpose of Service
Members of the Salvation Army Church believe Christian faith should be expressed through service to others. Spiritual rebirth should accompany physical, emotional and social restoration, which is why they integrate these values into their ministry. Church services are held in Salvation Army community centers, which are the hubs of the organization's spiritual and community development. Members abstain from alcohol and tobacco, and volunteer for an assortment of civic activities.
Purpose of Helping Others
In 2014, the Salvation Army ran 7,546 community centers throughout the United States. Work in these centers includes children's programs, distributing food to the poor, providing disaster relief, rehabilitation and stopping human trafficking. These programs are funded through donations and proceeds from sales at Salvation Army stores. Donations come from corporate and personal contributions, which are tax exempt in the U.S., as well as money received in the Salvation Army's distinct red kettles.
Salvation Army's World Service Programs
The Salvation Army started its World Service Office, or SAWSO, in 1977. Its mission is to help others to help themselves by improving community living conditions, skill development and increasing productivity while fostering self-confidence. In 2014, there were 940,000 members and volunteers working in developing countries. The SAWSO works in conjunction with USAID, the United Nations and local non-government organizations on many projects. Some of these efforts include poverty elimination projects, economic empowerment, disaster relief, stopping human trafficking as well as HIV/AIDS and community health projects.
References
Writer Bio
A published author and professional speaker, David Weedmark has worked as a technology consultant for many small businesses and was once a professional financial advisor. David has also has written hundreds of articles on money matters for newspapers, magazines and online publications.