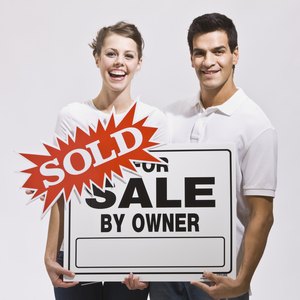 •••
AVAVA/iStock/GettyImages
If you've decided to put your home up for sale by owner (FSBO), you take on a role that requires managing a lot of paperwork that a real estate agent may have otherwise handled. Early in the process, you need to locate a lot of legal documents related to the original purchase along with current documents about your home value and mortgage loan. The offer, negotiation, escrow and closing stages involve filling out the most paperwork to perform a variety of tasks, such as getting a purchase contract to having the home's deed transferred.
The exact paperwork needed for the "for sale by owner" (FSBO) process depends on the state where you live as well as the property itself. Here's a look at what the process of selling your own home involves and the most common paperwork you'll probably encounter along the way.
For Sale by Owner Introduction
You might decide to sell your home yourself to avoid the expense of real estate commissions or to have complete control over the process. By doing so, you choose to use your expertise and invest your time in the whole process from preparing your property for sale to attending the closing meeting. Along the way, you face several important steps and the paperwork that comes along with them.
Due to the complex process, you may still seek help from a professional, such as a real estate attorney, even if you don't use a realtor for the transaction. A real estate agent may be involved in the transaction since most buyers have an agent representing them, even if you don't as a seller. In that case, you'll probably still pay that agent's commission, although it's less than using a real estate agent yourself.
Looking at the FSBO Process
To better understand where paperwork fits in, it helps to look at these steps involved in selling your home:
​Preparing for the listing​: During this stage, you dig out the documentation needed for the rest of the FSBO process, and you physically prepare your house. For example, you locate documents like your repair records, original purchase contract and tax records as a reference. At the same time, you start cleaning out your home, making any repairs needed and planning how you want to stage the property to appeal to the most buyers.
​Marketing your home​: You create a listing for your home that you post on real estate websites and pay for inclusion on the MLS. You can also spread the word about your home locally with signs and word-of-mouth advertising. This is where you'd write up a description and take pictures as well as do property showings and host open house events to people who contact you expressing interest. Documents in this stage include analyses regarding the home's value and potential net profit from the sale as well as initial disclosures forms.
​Considering buyers​: The phase where you start to take and consider offers might involve the help of a real estate attorney since you have an extensive key document to work with: the real estate purchase offer. This becomes the contract for the home sale and requires careful consideration to avoid making errors that make the deal fall through later. You spend this stage looking at offers, vetting buyers and deciding whether to accept, decline or respond with a different offer.

​Entering the contract phase​: Once you've a signed purchase contract with the final terms of the home sale, you encounter paperwork related to the escrow process when the buyer has the home inspection and appraisal done. You have to make sure to provide the proper disclosures for the property as well as complete any state-mandated document related to removing contingencies.

​Closing the deal​: The closing phase wraps everything up to include tasks like getting the deed transferred to the new buyer and completing some last financial steps like paying off your current mortgage. You can expect to deal with paperwork during this stage that relates to your mortgage, property taxes and deed.
Preliminary Documents for Listing Your Home
Before you start the process of listing your home, you need to make sure you meet some initial legal requirements for doing so and get some initial information an interested buyer may request. The good news is you probably won't need to prepare new documents since you should have these on hand or be able to get them from the right sources.
Here are some key documents to look for:
​Your original home purchase contract​: This document shows what you paid for the home initially and helps trace ownership and past disclosures as well.

​Documents proving ownership or property bounds​: You should have a copy of your home's deed to establish ownership, and you may need a certificate of occupancy or compliance as well to prove the property's existence. Any updated property survey records can also help. You usually find a title company to obtain a preliminary title report to make sure there are no issues that would affect the sale.

​Repair, maintenance and utility records​: You want to disclose work done on the home, so you should look up receipts and repair/replacement records for the home's structures as well as appliances. Potential buyers will want to know that you kept up maintenance and that the home meets the building safety codes.
​Prior inspection and/or appraisal documents​: Some home sellers have their homes appraised and inspected before listing to have initial information about the home's worth and potential issues. Have these reports ready for both your reference and buyer questions.
​Warranty information​: Whether you pay for a home warranty or have appliances or additions that have a warranty, locate documents proving the start and end dates as well as conditions.
​Homeowner's association (HOA) documents​: You should have papers documenting current HOA dues and any member's handbook to show potential buyers.
Marketing and Analysis Paperwork
During the marketing phase, you might create paperwork with an analysis of local real estate sales to try to determine the best price for your home. This usually comes in the form of a comparative market analysis report for transactions involving a realtor, but you can also pay a professional to do this for you with an FSBO transaction. You might also refer back to a past report from an appraiser.
Other documents you might have include a seller's net sheet and a home marketing plan. The seller's sheet serves as a financial tool to determine your final profit on the home sale considering the costs involved, your current mortgage balance and estimated sale price. The home marketing plan usually includes findings from a market analysis along with your plans on how, when and where to list your home as well as show it to potential buyers.
Property Disclosure Form
Once you have a signed offer on your house and you've entered the escrow process, state laws usually require that you provide a real estate disclosure form – or possibly multiple forms – so you let the buyer know about possible defects with the property or other risks that could be hazardous. However, you need to prepare these documents early in the process.
The main seller's disclosure form would detail issues with the appliances, systems and roof as well as unveil any important incidents or improvements that apply to the home. The seller would also disclose things such as what kind of road access the home has, if the home is located in an area prone to flooding and if there are any hazardous conditions to know about.
If your property's build date was before 1978, then you also fill out a disclosure form regarding lead-based paint, since this is considered a hazard. You need to tell whether the home is known to have this kind of paint with details on where it's used, if applicable.
Real Estate Sales Contract Paperwork
When you have an interested buyer for your home and they want to make you an offer, you need to have a preliminary real estate purchase agreement drafted that details all the terms of the purchase and includes information about the buyer and seller. When you're doing an FSBO transaction, the buyer's agent usually handles drafting this document and presents it to you for consideration so that you can counteroffer, reject or sign the form if you agree to move forward with the purchase.
Some important items on this document include:
Offered home purchase price
Description of the property

Terms for contingencies such as financing, property surveys, easements and property inspections
Who pays closing costs and taxes as well as the buyer's and seller's duties at closing
The amount of earnest money the buyer will provide
Legal terms and disclosures for the transaction such as when a buyer can back out and not lose their earnest money
Estimated closing date
Any extras (such as furniture and appliances) agreed to be included with the home purchase
Name, address, title and signatures for both parties

Once a deal has been worked out (such as when a counteroffer comes into play or other changes get made), a final purchase agreement with the signatures of the buyer and seller is drafted. This contains the final terms for the sale and any updates, such as a more definitive closing date or final sales price. If the property is in California, you also complete a contingency removal form before the closing process to lift the contingencies set in the purchase contract drafted.
Real Estate Counteroffer Form
In situations where you need to make a counteroffer in response to a potential buyer, then you may fill out a counteroffer form where you offer new terms, such as a different purchase price or change to the contingencies, and give the buyer a certain amount of time to respond. The buyer can agree, reject or submit a different counteroffer to you. Both you and the buyer need to date and sign the counteroffer for the purchase to continue.
Home Inspection and Appraisal Papers
As the escrow process continues, the buyer will have a home inspection and appraisal done. These steps serve to both determine any faults with the property and satisfy the lender who will want to make sure the property is worth what the borrower's requesting and doesn't have problems that conflict with the property requirements that mortgage programs often have.
If you don't automatically receive copies of these documents, you should request them to keep in your records. You also need the home inspection report to refer to if the buyer comes back wanting to renegotiate the purchase price or request repairs over an issue found with the property.
FSBO Closing Paperwork
When it comes time to close the deal, you need to have paperwork related to your mortgage, property taxes and deed. This allows you to finish the mortgage payoff, provide the buyer with important information they need for their mortgage as well as formally transfer ownership.
For example, you should have details for your bank and mortgage payoff, a recent property tax statement and a deed filled out to transfer the property. You usually hire a third-party company to help with the actual deed transfer process, and the buyer signs the deed at closing. You also get a closing statement to review as well as possibly the buyer's closing disclosure.
Many states also require that you have a real estate attorney for the closing meeting. Even if you don't have to have one, having an attorney's help is a good idea to ensure everything goes smoothly.
Considerations for FSBO Paperwork
While the documents discussed are standard in an FSBO transaction, keep in mind that you might come across several others that your state requires. Check with your state's division of real estate or seek professional advice from a real estate attorney to make sure that you don't miss any important documents. A real estate attorney can also help you locate the necessary paperwork, though you can usually find your state's versions of documents like the purchase contract and disclosure form on their website as well.
References
Writer Bio
Ashley Donohoe has written about business and technology topics since 2010. Having a Master of Business Administration degree, bookkeeping certification and experience running a small business and doing tax returns, she is knowledgeable about the tax issues individuals and businesses face. Other places featuring her business writing include Zacks, JobHero, LoveToKnow, Bizfluent, Chron and Study.com.