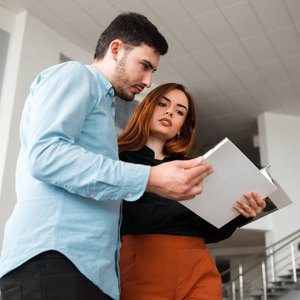 •••
Andrii Borodai/iStock/GettyImages
Shopping for a new car can be a confusing experience. Car manufacturers offer a seemingly endless list of models, car trims, options and accessory packages. However, if you familiarize yourself with base models, the different trim levels and available options before going into the dealer's showroom, you'll be in a better position to negotiate a price for the vehicle with the features you want and not have to pay for those you don't want.
How Do Automakers Classify Their Vehicles?
Let's start with the basics. The make of a car is its manufacturer, like Honda or Ford. Each make then has several models. For example, Honda has the following models: Civic, Accord, CR-V, Odyssey, Pilot, HR-V and Passport. Ford models include Mustang, Fusion, Expedition, Bronco, Edge, Escape and many more.
Depending on the manufacturer, each model can have as few as one trim level or several trim levels, sometimes six or more. Automakers designate these different trim packages with letters, numbers or a combination of both. The Honda CR-V, as an example, has four trim levels named with letters: LX, EX, EX-L and Touring. BMW uses a combination of numbers and letters to define the trim levels for its 3 Series: 320i, 330i, 330e and 340i.
Not all new car buyers are looking for the same features. To meet these different buyer's needs, automakers offer several trim levels in addition to separate options or options packages with different features for each model. As a result, you can put together a new car with the features that meet your particular needs and wants.
What Is a Trim Level?
Trim levels identify different versions of each car's model. The differences in trim levels involve a range of distinct features of interior upgrades (such as heated seats and leather upholstery instead of cloth), several exterior color choices, various engine and transmission combinations, climate control air conditioning, advanced safety features and more sophisticated entertainment systems.
The base model has the base trim level, which is the trim level with the least number of features and the lowest price. A base model with the lowest trim level would more than likely include basic cloth seats and a simple stereo system.
The Manufacturer's Suggested Retail Price increases as upgrades and additional features are added. Higher trim levels will package multiple options together, and the bundled price will be a better deal than if you purchased all the options separately. A vehicle's sticker price will show the model's total price, but it will not list separate prices for each feature included in that particular trim.
The features included in each manufacturer's trim level vary widely. The features and options included in one manufacturer's base model might only be found in higher trim levels for another manufacturer.
How Does Trim Level Affect Price?
MSRPs start out with the lowest price for the base model with standard features and go up as trim levels add more options and features. Take the Honda CR-V, for example.
The MSRP of each trim level for the CR-V is:
To see how trim levels change, consider the audio system provided for each trim level. The LX comes standard with a 160-watt audio system and four speakers. The EX ups the power to a 180-watt system and six speakers. The EX-L keeps 180 watts but adds two more speakers for a total of eight speakers.
The top-of-the-line level model, the Touring model, has a premium audio system included in its MSRP. This audio system almost doubles the output power to 330 watts and includes nine speakers.
Alloy wheels are another example of how trim levels increase in price. The LX trim level comes with standard 17-inch alloy wheels and no option to upgrade. The EX and EX-L come standard with 18-inch alloy wheels, but you can upgrade to 19-inch wheels for $2,083. The Touring version includes the 19-inch alloy wheels as standard in its MSRP, but you can add 19-inch specially designed black alloy wheels for an additional cost of $1,459.
What Are Options?
As an example, the Honda CR-V comes standard with a 190 horsepower engine and two-wheel drive. However, you can exercise the option for all-wheel-drive at an additional cost of $1,500.
If you are thinking about buying the CR-V EX, the exterior colors of black, blue, silver and gray are all included in the standard MSRP. But, if you want a bolder color, you can pay an additional $395 and get a metallic red.
Options are personal choices. You will find that some features you want are included as standard in trim levels in some cars but are add-on options at more cost for others.
What Is an Accessory Package?
Sometimes manufacturers will bundle together a group of options to give shoppers more choices. Packages usually focus on a common purpose. For example, a technology package might include such items as larger touchscreen displays and navigation systems. An entertainment package might include upgraded power with more stereo speakers and satellite radio.
Accessory packages usually cost less than if each one of the features were purchased separately. It pays to watch the offerings from automakers to see if any of these bundled packages have features that you want and are willing to pay the added price.
How Do Car Trims Affect Resale Value?
When it comes time to trade in your car, some car trims and option packages are worth more in resale value. If you're in a warm climate, sunroofs, for example, will add value to certain buyers. Leather seats add value because they always present an appearance of luxury and are more durable over time.
However, cars with expensive trim levels and options will usually depreciate faster than other cars. Used car buyers are not as interested in advanced technology instrumentation and premium cosmetic features as much as new car buyers.
Shopping Tips
Decide which features you want before going to the dealer's showroom. Make a list and look for the trim level and options that fit your needs. Sometimes a car's base model may have many of the features you want, but if you are considering other manufacturers and models, you may have to move up in car trim levels or add specific options separately.
Make a separate list for each car you're considering. You need to have a common basis on which to compare the trim, options and price for each one.
References
Writer Bio
James Woodruff has been a management consultant to more than 1,000 small businesses. As a senior management consultant and owner, he used his technical expertise to conduct an analysis of a company's operational, financial and business management issues. James has been writing business and finance related topics for work.chron, bizfluent.com, smallbusiness.chron.com and e-commerce websites since 2007. He graduated from Georgia Tech with a Bachelor of Mechanical Engineering and received an MBA from Columbia University.