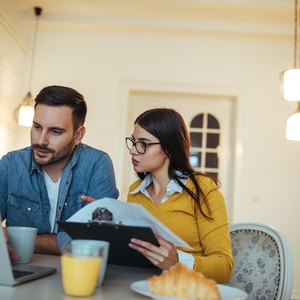 •••
bernardbodo/iStock/GettyImages
The basic idea of the federal government's premium tax credit is to help low income individuals and families buy health insurance. The details of the credit can get complicated: who's income-eligible, how the tax credit is paid, how much of it is tax deductible and what happens if the government pays more than you're eligible to receive. These major issues are explained below.
What Is Premium Tax Credit?
The premium tax credit is "a refundable tax credit" to help lower income individuals and families pay for health insurance obtained through the government Health Insurance Marketplace. (Note that there is also a commercial health insurance marketplace independent of the government marketplace at healthcare.gov).
The amount of your premium tax credit depends on income. When it comes to determining the amount of premium tax credit, you have a couple of options. When you enroll in the government Marketplace, you can elect to have your estimated credit computed online and paid to your health insurance provider, lowering your monthly premium as you go. Alternatively, you can wait to get the full premium tax credit at the time you file your annual federal tax return, at which time you'll also compute the amount you'll receive
Either way, when you file your income tax you'll also complete Form 8962, Premium Tax Credit and attach it to your return.
If it turns out that the total of your premium tax credit is greater than the taxes you would otherwise owe, you'll get a refund check for the difference from the IRS. If, on the other hand, the amount of premium tax credit you're entitled to is less than any advance payments made on your behalf to your health insurance provider, the difference (subject to some repayment caps) is either subtracted from the tax refund otherwise due or added to the amount you'd otherwise owe the IRS.
As of this writing in May 2018, the enrollment period for government subsidized health care has passed. However, you may still be able to enroll and receive Affordable Care Act benefits through 2018 if:

You're eligible for Medicaid, or

You've experienced qualifying changes in your life, like losing your health care coverage, getting married or having a baby.

For additional eligibility details and to begin enrollment, see "Still Need 2018 Coverage" at healthcare.gov. The link is available in the References.
Do You Have to Pay Back the Premium Tax Credit?
Unfortunately, if you or someone else made a miscalculation and the government has paid a premium tax credit amount to your health insurer that's more than you're entitled to, there's no federal provision for complete tax relief from your repayment obligation.
The good news, though, is that there are income-based caps on the amount you'll have to repay. You're eligible for a cap if your taxable income in 2018 is between 100 percent and 400 percent of the 2018 federal poverty level (for example, $12,060 – $48,240 for an individual and $24,600 – $98,400 for a family of four). Because your cap level varies according to which state you live in (poverty levels are slightly different for Alaska and Hawaii, for instance), the number of persons in your family and your plan level, it's usually best to sit down with a qualified nongovernmental insurance representative to determine how much you'll have to repay.
Alternatively, if you're good at deciphering government tax instructions and are otherwise reasonably familiar with the tax code, you can also determine the cap yourself with the aid of information available through healthcare.gov and by using eligibility documents like IRS Form 1095-A, which shows the tax credits you've received (you'll get it sometime in February, most probably) and IRS Form 8962, which helps you determine your modified adjusted gross income (MAGI) per household member.
Can I Deduct Health Insurance Premiums on My Tax Return?
It depends, but probably not. If you're talking about health insurance premiums paid on your behalf by your employer, then almost certainly you cannot deduct them because they were paid with pretax dollars, which amounts to double-dipping. One exception to the employer-paid health insurance nondeductibility rule is if your employer includes these premium payments as wages. If so, they'll appear in Box 1 of your W-2 and in that case you can.
So far as health insurance premiums paid directly by you are concerned, if you're self-employed they're fully deductible. If you're not, they're considered "medical expenses," and for 2018 you can only deduct those medical expenses that are greater than 7.5 percent of your adjusted gross income. In 2019 (the taxes you'll pay in 2020), the threshold rises to 10 percent.
Note also, that you can only deduct medical expenses (or any expenses, really), if you itemize your expenses on your tax return. Also, don't forget that so far as medical expenses related to the Affordable Care Act are concerned, you can only deduct the net amount after any premium tax credits have been subtracted from the total amount paid.
References
Writer Bio
I am a retired Registered Investment Advisor with 12 years experience as head of an investment management firm. I also have a Ph.D. in English and have written more than 4,000 articles for regional and national publications.