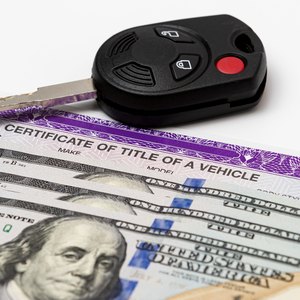 •••
JJ Gouin/iStock/GettyImages
If you're in the market for a new car and have a used one to trade in or sell, you want to get the best price for your used car. You have two choices: identify potential buyers so you can sell it to a private party or trade it in at a car dealership.
Let's look at both methods and see which one would be the best for you. But, before you decide, you have to do some research and get your car ready for sale.
Research Your Car's Trade-in Value
You start the process by researching the value of your car. Let's say you have a 2014 Honda Accord that you believe has a high resale value. You can visit online sites such as Kelley Blue Book and Edmunds and find out what buyers are paying under local market conditions for your specific model. Be honest about the mileage and condition of your car and include optional equipment so that you get a realistic price valuation.
Take your car to several dealerships in the area and ask their used car manager to give you an appraisal. After going to several dealers, you will have a good idea of the wholesale car price that car dealers are going to offer for a trade-in.
After doing this research, you will have a good idea of a fair price for your car at retail and a wholesale price that you might expect from a dealership. This knowledge will give you a good basis for negotiation.
When you have found the market value for your car, you can compare the price to the amount you still owe, if any, on a car loan. Whether you have equity in your car or you're "underwater" will affect your decision between selling it at a private party value or going to a dealership.
Prepare Your Car For Sale
To get the highest price, your car has to look its best. A car that has been cleaned and detailed is worth more than one that looks poorly maintained. Here's a list of things you can do that will make your car worth more:
​Have your car washed, detailed and waxed:​ You can either do this yourself or take it to your local car wash and let the professionals do it. Make sure the inside is vacuumed out, the wheels are washed and the tires have a slick blackener on them.
​Repair minor dents:​ Used cars are expected to have a few minor dings. Small scratches shouldn't affect the value of the car very much, but if the car has more, you should hire a company that specializes in cleaning up small dents. This may cost $100 or so, but the investment will be well worth it.
​Fix small problems:​ Replace any burned-out lights and fuses. Repair a sagging headliner. If the floor mats look worn and grungy, replace them. The small problems that you have been putting up with for a few years will downgrade the pricing of the car in the mind of a prospective buyer.
​Top off fluids:​ Check levels and top off the oil, brake fluid and windshield washer fluid.
​Provide service records:​ A maintenance log and receipts for service and repairs are especially important in a private sale. These records show car shoppers that the car has been well-maintained.
Selling to a Private Party
You'll get more for your car if you sell it to a private party rather than trading it in at a dealer.
However, when you sell to a private party, you'll have a lot more work to do. You have to advertise your car for sale, answer the phone calls from interested people and arrange for prospective buyers to take test drives. After closing the sale, you have to handle the transfer of the title to the new owner and make sure you get paid.
All of this extra work will take more time. You may be able to sell your car in one week if it's a popular model and priced right, but it could take two to three months before you're able to sell at the price you want. You have to prepare yourself for that possibility. If you're in a hurry to sell your car, you'll be in a poor negotiating position to get the price you want.
If you have equity in your car after paying off your loan, all is good. You can use the money you receive from the sale to make a down payment on a new car. However, if you're "underwater" on your loan, you'll have to come up with the difference to pay off the loan.
Selling to a Car Dealership
The major advantage of trading in your car with a dealer is that it's easy and quick. The dealership takes care of all the paperwork, and the entire process can usually be completed in a day. You drive onto the lot in your old car, negotiate the deal and drive off the lot in your new vehicle.
However, a dealer is going to give you a wholesale price for your car at best. When you sell to a private party, you're going to get closer to a retail price, and the difference can be several thousand dollars.
The dealer can only offer you a wholesale purchase price because they have to spend money making repairs and getting your car ready for sale on their lot. In addition, a dealer has to be able to make a reasonable profit when they sell your car.
If you have equity in your car after paying off the loan, you can use this equity as a down payment toward your new car to reduce your loan payments. However, if you owe more on your loan than the wholesale price that the dealer is offering, the dealer may be able to roll this negative equity into your new loan. The unfortunate part of this arrangement is that you may start out with a new loan and already be underwater.
You can increase the trade-in value of your car by following the tips suggested to prepare your car for sale. However, the biggest difference in price that you will get for your used car trade depends on whether you sell it to a private party at a retail price or trade it in at a dealer at a wholesale price.
You can get the higher retail price, but you have to be willing to put in the time and effort it's going to take to find the right private buyer willing to pay your price.
References
Writer Bio
James Woodruff has been a management consultant to more than 1,000 small businesses. As a senior management consultant and owner, he used his technical expertise to conduct an analysis of a company's operational, financial and business management issues. James has been writing business and finance related topics for work.chron, bizfluent.com, smallbusiness.chron.com and e-commerce websites since 2007. He graduated from Georgia Tech with a Bachelor of Mechanical Engineering and received an MBA from Columbia University.