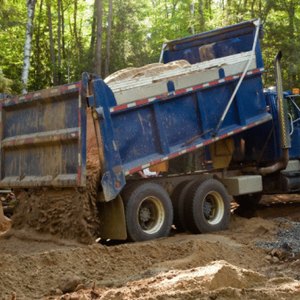 •••
Jupiterimages/Photos.com/Getty Images
Dump trucks give you an edge for heavy-duty tasks like moving landscaping materials or getting rid of large amounts of unwanted items. Of course, not everyone has these heavy-duty needs. This makes selling a dump truck a little different from selling a regular car. You'll need to work hard to reach a smaller niche market. Once you find a buyer, you can take the usual steps for an auto sale to transfer ownership and get the dump truck to its new home.
Have the dump truck inspected by a licensed mechanic and get a written report of the truck's condition. Potential buyers still can request that their own mechanics do an inspection, but they're less likely to do so if you already have a report. The report can speed the sale because it verifies whether you're being truthful and indicates what, if anything, the buyer will need to address after the sale.
Prepare to show the dump truck to potential buyers. Top off the fluids, clean everything and make any minor repairs that are necessary.
List the truck in Web and print ads. You'll have the best results if you publish ads on websites and in papers that are directed at dump truck users (see Resource section). Be clear about your asking price and whether or not you are selling "as is" or "best offer." List the dimensions and load limit of the truck, as this will tell potential buyers whether the truck is big enough for their needs.
Show the dump truck to prospective clients. Ask for proper motor vehicle licenses before you give anyone the keys, and always go with the potential buyer on the test run. Show the potential buyer how the rear of the truck functions; these functions are just as important as the condition of the engine and its mileage.
Verify your sale agreement with your buyer in writing, and accept payment in the form of cash or cashier's check.
Finalize the sale through your local Department of Motor Vehicles (DMV). The DMV office can walk you through the process if you don't know the vehicle sale laws in your state.
References
Writer Bio
Wanda Thibodeaux is a freelance writer and editor based in Eagan, Minn. She has been published in both print and Web publications and has written on everything from fly fishing to parenting. She currently works through her business website, Takingdictation.com, which functions globally and welcomes new clients.