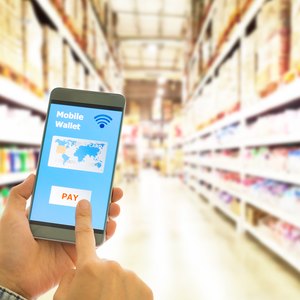 •••
utah778/iStock/GettyImages
Your wallet or purse is probably crammed with credit cards, coupons and insurance cards, right? Do you have to scramble to find your credit card when you're paying for groceries? Would you like to have everything readily accessible and all in one place? Well, you can. It's called Apple Wallet.
What is Apple Wallet?
Apple Wallet is a wallet app that comes on your iPhone and digitally organizes all your credit cards, debit cards, coupons and other types of ID cards all in one place – your cell phone. Here's a partial list of the passes and cards you can store on Apple Wallet:
Rewards cards
Event tickets
Credit cards
Debit cards
Loyalty cards
Store cards
Prepaid cards
Public transit cards
Movie tickets
Student ID cards
Boarding passes
The main screen in Wallet shows a scrollable list of all of your cards and passes. This makes it easy to scroll through the list and find the card you're looking for, whether it's your debit card or a concert ticket.
Tapping a specific card will bring up a list of recent transactions posted on that card or pass. Tapping again in the lower-right corner of the card will bring up a longer history of transactions.
If you're buying something in a store, just open the store's app and select the card you want to use. Hold your phone near the NFC card reader, authenticate with either Touch ID, Face ID or passcode, and the purchase will be completed. You can also use the watch app to make payments with your Apple Watch. Millions of stores now have NFC, near field communication, readers that make the checkout transaction contactless.
How to Add a Card to Wallet
The most common use for Apple Wallet is to store your credit and debit cards. These are the steps to follow when adding a card to Wallet:
On your iPhone, open the Wallet icon. It'll be the black image of a wallet holding several credit cards in different colors.
Tap the "Add Credit or Debit Card" button.
Tap the "Next" button
Hold the card so that it appears in the frame on the screen. Your iPhone should be able to scan the card number and expiration date on the face of the card. If the image is not captured correctly, you may need to enter the card number and expiration date manually. Tap on the "Enter card details manually" text at the bottom of the screen.
Enter card details with CVV security code.
Tap the "Next" button in the upper-right corner of the screen.
Tap "Agree" to Terms and Conditions.
Select a method to receive a verification code by either text or a phone call. Tap "Next."
Enter the verification code and tap "Next."
The next screen should indicate that the card has been activated and is ready for purchases.
The first card you enter will be used as your default card for payments. You can change the default card by clicking on the Settings button.
How to Add Passes to Wallet
In addition to storing all of your credit and debit cards, Wallet also makes it easier to use passes. Apple defines passes as items like coupons, boarding passes, student IDs and event tickets.
Most of the legacy airlines, such as American, Delta and United, have apps for iPhones that let you check in and receive your boarding pass on your cell phone. Here are the steps:
Download and open the app for your airline.
Sign in by opening your reservation with your flight confirmation number and your name.
Check in to your flight and the app will take you to your boarding pass.
After the boarding pass appears, you will see a button that says "Add to Apple Wallet." Tap on this button.
Tap on "Add" to confirm the addition to Wallet.
Your boarding pass is now in your Apple Wallet. You will be able to access it at flight time for boarding.
Tap the notification to show the boarding pass with its QR code to the airline gate attendant.
These steps will be similar to any other passes you want to add to your Wallet. For another example, if you have medical insurance with Blue Cross Blue Shield, you can download their app and add your identification card to your Wallet to present when receiving medical care.
What is Apple Pay?
Apple Pay is a mobile payment app that works within Wallet. You can use it to make payments at physical stores, such as coffee shops, and to make online purchases. Apple Pay works with most major credit card providers like Visa, Mastercard and American Express, including Apple's own recently introduced Apple credit card.
Apple Pay is accepted at thousands of stores and restaurants worldwide that use contactless payment readers. In addition, you can also use Apple Pay to send money to friends and relatives. Apple Pay can be used on either your iPhone or Apple Watch.
Syncing Apple Wallet With Apple Watch
Passes in Apple Wallet will automatically be synced with Apple Watch after they are added to Wallet. However, credit cards must be added separately to Apple Watch for security reasons. You will need to create a new passcode on your Apple Watch to use credit cards.
How Secure is Apple Wallet?
Information that you enter about your debit and credit cards is encrypted and stored on Apple servers. None of this information is kept on your device. If you used your cell phone's camera to enter a credit or debit card, the information is not saved on your device or in the photo library.
When you use Apple Pay in a store, you must authenticate the transaction with either your Touch ID, Face ID or passcode. Your credit or debit card information is not shared with the merchant, and your card numbers are not stored on the vendor's system.
An exception to this rule is store rewards cards. Information from rewards cards such as name, address and balances are stored on your device. You can elect to have a store's rewards card activated whenever you make a purchase in that store. Again, all information sent between your device and the merchant is encrypted and can only be sent with your authorization.
What Happens if You Lose Your iPhone?
If you have "Find My iPhone" activated, you can suspend all payments and transactions by putting your device in Lost Mode. You don't have to immediately call all your card providers and cancel all your cards.
You will need to go to icloud.com/find and log into Find My iPhone in your Apple account. A map will appear showing your device's current location in addition to any movements. You can re-enable Apple Wallet and Apple Pay after you locate your phone.
Apple Wallet is a convenient and safe way to store most of the common items in your wallet or purse. With more and more stores installing readers to accept contactless transactions, physical cards are becoming history.
References
Writer Bio
James Woodruff has been a management consultant to more than 1,000 small businesses. As a senior management consultant and owner, he used his technical expertise to conduct an analysis of a company's operational, financial and business management issues. James has been writing business and finance related topics for work.chron, bizfluent.com, smallbusiness.chron.com and e-commerce websites since 2007. He graduated from Georgia Tech with a Bachelor of Mechanical Engineering and received an MBA from Columbia University.