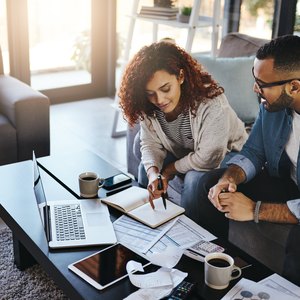 •••
PeopleImages/E+/GettyImages
Once you file your tax return with the IRS, you may never need it again. But any number of life's unforeseen circumstances may send you on a treasure hunt for this valuable document so that you can provide proof of your income. You may purchase a new home when you thought you'd live forever in your present home, and you have to provide tax information to your lender to qualify for your mortgage loan. Or you may decide to go back to school in pursuit of a lifelong dream, and the information on your tax return may help you get a student loan.
If you find yourself caught up in certain legal matters, an attorney or judge may ask you to produce your tax return. In any of these scenarios (or others), you may not be able to open a file folder and retrieve a paper-copy tax return, particularly if you're among the ​89.24 percent of taxpayers​ who electronically filed a paperless return ​in 2020 for tax year 2019​. But go ahead and breathe – you can access the needed data on a filed tax return by getting a tax transcript.
What Is a Tax Transcript?
A tax transcript doesn't have the same fields and format as a paper tax return. Instead of all the bells and whistles of a paper return, a transcript simply contains a summary of the return's line-item information, organized into a condensed text format.
The IRS provides different types of tax transcripts, which you can access online or receive through the mail. And the best part is that you can get these transcripts free of charge. It's only if you want an exact photocopy of a paper tax return you filed that you'll have to pay a fee.
Types of IRS Tax Transcripts
You have options for choosing the tax transcript you need. Depending on the specific information you want, you may only need the Wage and Income Transcript, which includes the data from your Form W-2 (Wage and Tax Statement), or you may need the more comprehensive Record of Account Transcript, which includes more robust data.
Choose from among these free tax transcripts:
​Wage and Income Transcript.​ In addition to the information on your W-2, this transcript also includes any data contained on other information returns such as the 1099 series, Form 1098 (Mortgage Interest Statement) and Form 5498 (IRA Contributions).

​Tax Return Transcript.​ This transcript includes your adjusted gross income in addition to most of the line items on your 1040 tax return. It also includes the data from all forms and schedules you may have filed with your return. If you need a tax transcript because you are qualifying for a mortgage loan, applying for an educational loan or another type of consumer loan that requires proof of income from your tax return, this transcript typically suffices. Note that if you made any changes to your original return, the Tax Return Transcript will not include these changes.

​Tax Account Transcript.​ This transcript includes any changes you made to your original tax return. You'll also receive additional data, including your taxable income, adjusted gross income, marital status and the type of return you filed.

​Record of Account Transcript.​ If you need a comprehensive transcript, this is the one you'll request. The Record of Account Transcript combines the data from the Tax Return Transcript and the Tax Account Transcript into a complete transcript of both. If you're unsure of which transcript you need, the IRS recommends choosing this one because it provides the most detailed information of all the transcript types. You'll likely cover all the bases for the information you need to provide to a third party by providing them with this tax transcript.

​Verification of Non-Filing Letter.​ This transcript is different from the others. It's more accurately a letter of confirmation from the IRS that you did not file Form 1040 for the year requested. It does not confirm, however, whether you were required to file a tax return for the year in question.

Tax Transcript Availability
Tax transcripts are time-sensitive with limited availability for previous years. Some types are available for the past few years and others are available up to ​10 years​.
​Wage and Income Transcript.​ Available for the current tax year as well as tax returns you filed for the ​previous 10 years​ if you use the IRS "Get Transcript" option or Form 4506-T (Request for Transcript of Tax Return). If you need the current year's tax transcript, it may not be available ​until after July​.

​Tax Return Transcript.​ Available only for the current tax year as well as tax returns you filed for the previous three years.

​Tax Account Transcript.​ Available for the current tax year as well as tax returns you filed for the ​previous 10 years​ if you use the IRS "Get Transcript Online" option or Form 4506-T.

​Record of Account Transcript.​ Available only for the current tax year as well as tax returns you filed for the previous three years if you use the IRS "Get Transcript Online" option or Form 4506-T.

​Verification of Non-Filing Letter.​ Available for the current tax year as well as the previous three years if you use the IRS "Get Transcript Online" option or Form 4506-T. The current year's verification is available ​after June 15​.

Access Your Tax Transcript Online
The IRS "Get Transcript" tool offers taxpayers an easy option for accessing their tax transcripts. Visit IRS.gov/transcripts and choose "Get Transcript Online." You'll be prompted to create an online account by providing this information to register for this ​free service​:
Your Social Security Number

Your date of birth

Your filing status

The mailing address from your latest tax return

An account number from one of your personal accounts such as a credit card, mortgage loan or car loan

A mobile phone number that bears your name on the account

After you've registered your new account, you'll be able to view, download or print your tax transcript. You'll also receive a username and password for return access to your account.
Receive Your Transcript by Mail
If you'd rather receive your tax transcript by mail instead of accessing it online, visit IRS.gov/transcripts and select the "Get Transcript by Mail" option. You'll only need to provide the IRS with ​three pieces of identifying information​: your Social Security number or Individual Tax Identification Number, date of birth and the mailing address from your latest tax return.
After you submit your request, allow up to ​10 calendar days​ for your tax transcript to arrive in the mail. You can also print IRS Form 4506-T from IRS.gov and mail this form to the IRS to request a mailed copy of your tax transcript.
Get Tax Transcript by Phone
Call the IRS Transcript Order Line at ​800-908-9946​ to request your transcript. Follow the automated prompts to place your order over the phone. Expect to receive your transcript in ​five to 10 days​ after submitting your request.
Request a Tax Return Photocopy
You can get an exact photocopy of your tax return if you filed a paper return. Visit IRS.gov and download Form 4506 (Request for Copy of Tax Return). Complete the form and mail it to the IRS at the address that's listed on the form. You'll also need to include a check or money order for ​$43​ made payable to "United States Treasury" for each tax return you need – the IRS does not offer this as a free service as it does for providing transcripts.
You'll need to note your Social Security number, Individual Tax Identification Number or Employer Identification Number in addition to "Form 4506 request" on your check or money order. (If you live in a federally declared disaster area, you can get a free copy of your tax return.) Allow up to ​75​ ​calendar days​ for the IRS to process this request.
Send Transcript to Third Party
If you're qualifying for a mortgage loan and you're under a deadline to provide tax return information to your lender, or if you're applying for a student loan and that deadline is fast approaching, you can choose to have the IRS send a copy of your tax transcript or return directly to a third party. But because the IRS must have your signature approval before it can send this information to someone else, you'll need to download Form 4506 or Form 4506-T, complete the applicable form and mail it back to the IRS. Be sure to complete Line 5 on either form with the correct name, address and telephone number of the third party.
Once you give signature authority to the IRS to release your tax transcript or a copy of your tax return to a third party, the IRS has no authority over the third party's use of your tax information.
Understand Tax Transcript Codes
When you receive your tax transcript, you'll immediately notice how differently it's formatted than a conventional tax return. But you'll also notice something else – the presence of tax transcript codes. These three-digit numbers represent encoded actions on your tax return, from a change in your address to different stages in how your return is processed.
These codes do not affect any of the data you submitted when you filed your return, and they are inconsequential to any third party, such as a lender, who needs your transcript. But if curiosity prevails, visit IRS.gov and search for Document 6209 or "Transaction Codes Pocket Guide" to de-code the IRS notations on your tax transcript.
Contact the Social Security Administration
If you want a tax transcript simply because you need to find one of your W-2 forms for a Social Security-related issue, you can actually go straight to the Social Security Administration for help. The Social Security Administration does not provide tax transcripts, but it does provide ​free copies of W-2s​ – all the way ​back to 1978​. You can also get a past W-2 for a reason that's not related to a Social Security issue, but you'll have to ​pay $81​ for this service.
For your free copy, send your request to: Social Security, Office of Central Operations, Office of Earnings and International Operations, Division of Earnings and Business Services, P. O. Box 33003, Baltimore, MD, 21290-3003. Include this information with your request:
Your name – exactly as it appears on your Social Security card.
Any different names that may have appeared on past W-2s.
Your Social Security number.
Your complete mailing address.
Your daytime telephone number.
The year(s) for which you need copies of your W-2s.
The reason for your request.
References
Writer Bio
Victoria Lee Blackstone was formerly with Freddie Mac's mortgage acquisition department, where she funded multi-million-dollar loan pools for primary lending institutions, worked on a mortgage fraud task force and wrote the convertible ARM section of the company's policies and procedures manual. Currently, Blackstone is a professional writer with expertise in the fields of mortgage, finance, budgeting and tax. She is the author of more than 2,000 published works for newspapers, magazines, online publications and individual clients.