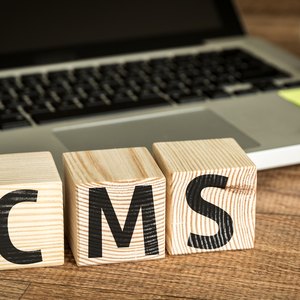 •••
gustavofrazao/iStock/GettyImages
A CMS – short for content management system – is software that does just want it sounds like it does. It manages your digital content from creation to editing through publishing. It can be an invaluable tool for businesses that want to reach customers online. The concept has matured considerably over the years as CMSs started out as just simple blogging platforms that let you publish material on the internet.
How Content Management Systems Work
A content managements system allows you to publish internet copy without knowing how to write code. You don't need that kind of tech experience because manufacturers have already done that, simplifying and streamlining the process. You can simply create, edit, publish and manage content. Most CMSs can accommodate mobile apps so you can access your content from anywhere.
The standard CMS has two parts: the content management application (CMA) for the management of your site and a content delivery application (CDA) for delivery to the internet. You can create and control your content with the first, while the second delivers it, as the name suggests.
Available CMS Features
The exact metrics of these systems can vary, but many share common features. Multiple users can collaborate on the same copy. You, your employees and your site designer can all access it to make changes.
A quality CMS can handle multi-page ecommerce sites, news sites, single-page blogs and even corporate websites. Multi-page websites can be edited as part of one task. You don't have to manually incorporate your changes to each page. They can provide advertising – your own or paid to you by another source – shopping carts, chat rooms and discussion boards.
You can give your system scanned paper documents and it will transform them into HTML or PDF form. It should provide search functions for you and your users. Most CMSs will allow you to perform one-on-one marketing tasks. These systems come with security features, permission systems, SEO integration and support and payment processing.
Some systems also provide plug-ins to help you generate and cultivate leads and manage email and social media campaigns.
Who Uses All These Features?
A CMS is first and foremost a business tool. It gets your presence out there online, allowing you to entice and steer traffic to your website. Digital marketing sets businesses apart in the millennium, sifting the losers out from the winners, so this can be an invaluable asset whether you're a sole proprietor or a corporation. You can create and maintain your own internet brand image without any programming experience. The idea behind content management systems is to provide an avenue for non-techies to manage their own sites.
Using a CMS can be cost-effective. You don't have to hire a developer if you prefer to take care of things yourself. This tool gives you just about everything you need to create and maintain your website, although you might want to reach out for help in some circumstances, such as if you want to customize areas of your site that the CMS program isn't automatically set up to create for you. This type of effort can require some coding.
Advantages of Using a CMS
What does all this mean to your day-by-day business efforts? You'll spend less time and money reaching potential customers and clients through an online avenue, without having to build your webpages on your own and from scratch. CMS design templates will help you along and provide pointers, too. Maybe all your pages are jarringly different in design. Your CMS should run up a red flag in this case, ask you what you want to do about it and provide ways for you to fix it.
You can effectively interact with potential clients and customers without being present. Someone interested in your services can find out what they most want to know in the middle of the night while you're catching some z's. You can schedule posts and content to appear in advance. A well-designed website will answer most common questions, guiding users to the answers they need, so you can make the best use of your time. You don't have to be available on demand.
Managing your content can be a team effort, regardless of where each of you is located. Maybe you run an enterprise where your contributors or assistants are sprinkled all over the country, working from home. Content managements systems can be had in both cloud-based versions and on site, so anyone can access them as long as they have internet access.
The Most Popular CMS Brands
Some CMS programs are more popular than others. In fact, some are even household names. Think WordPress. It's a free open-source provider that you can use in the cloud or from your own computer. It wins applause for being extremely customizable with ample plug-ins available and tons of tools. It can accommodate a large assortment of industry types. PCMag tags it as the most popular open-source platform.
Joomla is also a free, open-source system. It provides features for language translation if your business enterprise relies on contact with people worldwide, or those for whom English is a second language. PCMag puts this one at the second most popular platform.
Then there's Backdrop CMS, rated number three by PCMag. Provided by Drupal, it's also free, also open-source and is said to be best for small and medium-sized enterprises.
You can access Wix for free as well. This one is cloud-based and it lets you add your own code if you're knowledgeable enough to do so. It offers 24/7 support if you run into problems.
Other popular choices include Squarespace and Ghost. Squarespace isn't open-sourced so you can't download the system and install it on your own computer. You must subscribe and manage your website or pages online. But it does offer a free trial period so you can determine if this works for you. It offers a separate commerce platform. Ghost Is open-sourced.
How Much Does This Cost?
The no-cost versions of these systems tend to offer more limited features, or the free version might last for only a limited period of time. Most CMS providers also offer paid plans that give you access to more top-notch access and tools.
Their plans aren't just one flat price across the board. Costs can vary depending on how many people you want to be able to access your system, how much content you're publishing and how often and what additional features you prefer. Some offer a wider platform in exchange for subscriptions, and some offer lifetime licenses.
Subscriptions range from $5 to $26 a month or so. Wix starts at $5 a month, increasing to $23 per month for its "Pro" version. Squarespace will run you $12 a month for the personal version, up to $18 for the business CMS and $26 for its commerce version with online shopping carts. The business version offers unlimited bandwidth and storage.
WordPress is on the higher end of the scale with a business plan at $25 a month, but that plan gives you full access to everything the CMS has to offer.
A CMS Alternative
You can go all-in or scale back from the basic CMS program, depending on your needs. A web content management system, or WCM, is more heavy duty. It offers the same features as a CMS, plus some. Most notably, this type of system will manage your sites for you, but read the fine print to be sure. There's no real industry standard differentiating one from another.
References
Writer Bio
Beverly Bird has been writing professionally for over 30 years. She is also a paralegal, specializing in areas of personal finance, bankruptcy and estate law. She writes as the tax expert for The Balance.