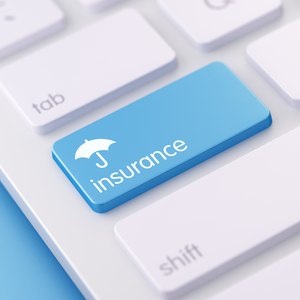 •••
MicroStockHub/iStock/GettyImages
Running your own business comes with an element of risk. You could find yourself at the other end of a lawsuit that wipes out your business bank account, as well as your personal accounts. Business insurance can help protect your interests, but it's important to carefully check your business insurance policy documents to ensure you're getting the types of coverage you want.
What Is Business Insurance?
Business insurance coverage protects both you and your assets against loss or litigation. A business owner's policy relates specifically to your professional interests. If you own a business or work for yourself, the right insurance policy can kick in to cover any lawsuits or damage your business suffers.
Business owners who own property might find it especially important to look into insurance. If someone is injured on that property, including an employee, you could find yourself liable for medical bills and associated costs like pain and suffering and lost wages. But there are multiple types of business insurance, each with its own coverage scope.
Types of General Business Insurance
The most popular business insurance type is the business owners' policy. But while this is the general policy, there's a variety of coverages your insurer can build into it. Here are the types of business insurance that apply to all businesses.
​Property insurance​: Whether you own property or lease, property insurance is a must-have if you want to protect your business equipment. In fact, your property management company will likely require all tenants to have property insurance to cover your contents.
​Liability insurance​: General liability insurance covers a variety of legal issues your company could face, from someone falling on your property to injuries caused by one of your products.
​Auto insurance​: If you or your employees use vehicles for business, your personal auto policy might not cover any damage you cause. It's important to coordinate your business and personal insurance policies so you aren't duplicating coverage.
​Workers' compensation insurance​: From the time you hire your first employee, your state likely requires you to have workers' compensation insurance. This covers lost wages and medical expenses for injuries an employee sustains while on the job.
Specialized Insurance Coverage
A general business owner's policy will typically pack in all the basics you need for your business insurance needs. But even if your business insurance covers the basics, there are some things your business might need due to the nature of the work you do. Here are some to consider adding on.
​Errors and omissions insurance​: If you work in a profession where you're providing advice, such as real estate, insurance, financial services or the medical field, errors and omissions insurance will cover you against lawsuits. In fact, it's important to check your state licensing requirements to make sure this insurance isn't mandated.
​Employment practices liability coverage​: This is another type of insurance to consider if you have employees. Employee practices liability covers you if an employee files a lawsuit against your company for perceived violation of their legal rights.
​Directors and officers liability​: As a member of the management team of a company, you can protect your risk with liability insurance specific to your role.
​Key employee insurance​: If something happens to you or one of your company's other employees, key employee insurance will cover the loss of income the person's loss causes.
Umbrella Policies for Businesses
For everything else, there are umbrella policies. But don't assume you can just purchase an umbrella insurance policy and skip everything else. Umbrella insurance is designed to serve as an extension of your company's general liability insurance, so you'll need a general liability insurance policy to cover your primary risk.
As with liability insurance, though, your umbrella insurance policy will only protect you to a specified limit. A higher limit will up your insurance cost, though, so it's important to weigh how much you want to pay in premiums each month against the level of protection you need.
Business Interruption Insurance Coverage
Loss of property isn't the only thing you'll suffer if your business falls victim to a disaster. You'll also likely see a loss of income, particularly if you have to shut your doors for a time. Make sure your property insurance policy will cover that loss of income and, if so, what are the limits of that coverage?
Business interruption coverage typically only covers loss of income during something called the "restoration period." This begins when the damage occurs to the property and ends when the insurer deems repairs could reasonably be expected to be complete. If things are taking longer than expected, you may be able to negotiate to extend the coverage but ultimately, the insurer decides when insurance stops paying for your loss of income.
General Liability Insurance Coverage Limits
Although there are many things general liability insurance covers, there are limits, as well. You can claim losses due to natural disasters, for instance, but losing products due to employee or customer theft isn't covered by insurance. You also can't claim financial losses due to not selling products you've had manufactured or that you've purchased.
The biggest complication you'll likely run into with insurance is figuring out which of your policies cover which incidents. By having business insurance that builds everything in, you'll be able to simply file a claim and let your insurance agent decide which section of your policy covers it.
Business Insurance Cost
As with any insurance, your policy will be calculated based on the type of coverage you have, your profession and the number of people you employ. If you have additional coverage types, you'll also pay more. Your premiums will also go up and down depending on the maximum amount you'll be paid if you ever have a claim.
If you're in a high-risk occupation, your business insurance costs will go up. Business risks are a big factor in determining your premiums. Physical laborers with a high risk of on-the-job injuries, for instance, will pay more, as will medical professionals due to the extreme expense of malpractice lawsuits.
Personal Insurance and Home-Based Businesses
If you work out of your home, your business property should be covered under your homeowners' insurance. But you need to scrutinize that policy and pay close attention to the policy limits. You might find, for instance, that you're only covered for up to ​$2,500​ in business equipment and opt to increase that limit.
Another thing to look at is whether you can add a homeowners' liability endorsement. This will protect you if someone falls on your property. However, these endorsements typically only cover businesses that have a limited number of visitors. If you regularly have clients or customers on-site, you'll want to add some coverage.
There is a separate option called an in-home business policy. This specifically addresses the setup of a home-based business to provide higher liability and property damage protection. In some cases, you'll also be able to have a small number of employees under this type of policy.
With so many insurance options, it's easier than ever for small business owners to shop around and find the best rate for a business owners' policy. Outline the coverage you need first, then price multiple insurers. Check the upper limits of each type of coverage to make sure your business is fully protected before you commit to a policy.
References
Writer Bio
Stephanie Faris has written about finance for entrepreneurs and marketing firms since 2013. She spent nearly a year as a ghostwriter for a credit card processing service and has ghostwritten about finance for numerous marketing firms and entrepreneurs. Her work has appeared on The Motley Fool, MoneyGeek, Ecommerce Insiders, GoBankingRates, and ThriveBy30.