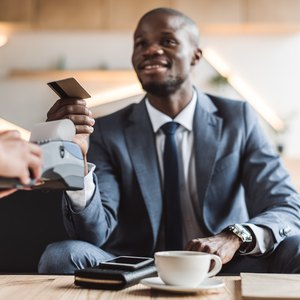 •••
LightFieldStudios/iStock/GettyImages
Also called credit reporting agencies, credit bureaus collect information about consumers from their creditors, lending institutions, insurers and employers. The credit bureaus compile the data into reports that provide a snapshot of a person's financial health and then sell these curated reports back to the same sources that provided the data. Among other data, credit reports include payment histories, outstanding balances owed on accounts and bankruptcy filings.
What Are the Three Credit Bureaus?
Although there are more than three credit bureaus in the U.S., the undisputed "Big Three" are Equifax®, Experian® and TransUnion®.
Equifax. Located in Atlanta, Ga., with a worldwide staff of more than 10,000 people, Equifax was founded in 1898. Although the company initially provided credit reports to business clients, its reports ultimately included individual consumers.

Experian. In 1826, Experian had its early beginnings in London, England. The company originally helped merchants identify customers who had a history of not paying their debts. Experian has since grown to include 17,000 staff members in 37 countries. Its corporate headquarters is in Dublin, Ireland.

TransUnion. Headquartered in Chicago, Ill., TransUnion began as a holding company for a railcar leasing organization, the Union Tank Car Company, in 1968. The following year, TransUnion acquired the Credit Bureau of Cook County. Its operations now include offices in 33 countries.
Where Do You Get Your Free Credit Report?
You can get your free authorized credit report by visiting AnnualCreditReport.com or by calling 877-322-8228 to request your copy. You can also download the Annual Credit Report Request Form from AnnualCreditReport.com and mail the form to: Annual Credit Report Request Service, P.O. Box 105281, Atlanta, GA, 30348-5281.
As of September 2005, the Fair Credit Reporting Act (FCRA) granted consumers the right to get a free copy of their credit report from each of the big three national credit bureaus. The Federal Trade Commission (FTC) cautions consumers about "imposter websites," which offer "free" credit reports. These "free" credit reports often come with strings attached. You may only enjoy a free trial period, after which the website automatically converts your account to a fee-based subscription.
AnnualCreditReport.com is the only authorized website that provides free, no-strings-attached credit reports as part of the federally mandated Fair Credit Reporting Act.
Although you're entitled to a free yearly copy of your credit report from each of the top three credit bureaus, this report will not contain your actual credit score. If you check your credit card statements or other loan statements, you may find your credit score there, which will be free just for the checking. You can also get your Equifax and TransUnion scores for free by visiting CreditKarma.com.

Note: Each of these credit bureaus may assign you a slightly different score because of the varied ways each bureau calculates its scores.
What is a Good Credit Rating?
A good credit rating falls between 670 and 739 on the FICO scoring scale. As a comparison, the highest-possible FICO score is 850, which reflects an excellent credit rating. Although there are other types of scoring models, FICO is one that's typically used by many lenders. FICO is an acronym for the Fair Isaac Corporation, a data-analytics company that originally used a scoring system for underwriting credit card accounts.
How to Improve Your Credit Rating
The Federal Reserve Board offers five tips for improving your credit score:
Monitor the activity on your credit report by ordering a copy of it every 12 months from the three national credit bureaus. If you see incorrect data on your credit report, you can file a dispute by contacting the credit bureau directly and also by contacting the source of the incorrect data, such as your bank, mortgage lender or credit card provider. If the dispute remains unresolved, you can file a complaint by visiting the Consumer Financial Protection Bureau at ConsumerFinance.gov/complaint or by calling its office at 855-411-2372.

Pay your bills on time – by their due dates. Your payment history is a vital part of your credit score. Late payments will adversely affect your credit rating.

Learn how credit bureaus calculate your credit score so that you can proactively manage the contributing factors. For example, as your outstanding debt approaches your credit limit, your credit score may drop. Your score may also drop if you apply for numerous credit accounts within a brief time period.
If your credit history is short, your credit score is typically lower than if you have a longstanding and good credit history. But you can offset your short credit history and improve your low score by making sure you pay all your bills on time and maintaining low balances on your credit accounts.
Take the steps to correct any errors you find on your credit report. As long as inaccurate data remains on your credit report, your score will be negatively impacted. If your credit rating begins to slip, be aware of credit-repair scams that offer to help you fix the problem. For legitimate advice, visit the Federal Trade Commission at FTC.gov and perform an internal search for "Credit Repair: How to Help Yourself."

References
Writer Bio
Victoria Lee Blackstone was formerly with Freddie Mac's mortgage acquisition department, where she funded multi-million-dollar loan pools for primary lending institutions, worked on a mortgage fraud task force and wrote the convertible ARM section of the company's policies and procedures manual. Currently, Blackstone is a professional writer with expertise in the fields of mortgage, finance, budgeting and tax. She is the author of more than 2,000 published works for newspapers, magazines, online publications and individual clients.