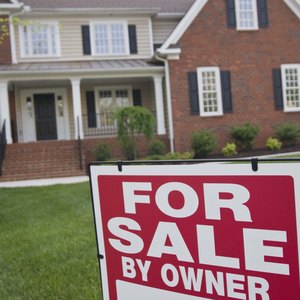 •••
Jupiterimages/Comstock/Getty Images
Taking on the difficult task of selling your home "by owner" means you'll save thousands of dollars in commission fees, but only if you're prepared for the time consuming work involved in a "for sale by owner" – or FSBO. The reward comes with a successful sale. FSBO's aren't without cost, however, and an advertising and marketing budget is an integral part of your sales plan. Approach your project after researching your local market and accumulating data that supports your numbers. Only then are you ready to advertise your FSBO.
Determine whether you're in a "sellers" market, where inventory is low and buyers are numerous, or a "buyers" market, where an abundance of homes compete for the few buyers who are shopping. Be prepared to spend a larger amount of your funds for advertising in a buyers' market as you need to attract those shoppers and convince them that your home is superior to others that are on the market.
Consider paying a fee to list your home on the multiple listing service – MLS -- through a brokerage that provides a listing service. Agree to pay a commission to a buyer's agent if you choose this route; your advertising scope increases by using the MLS.
Photograph your home and create good quality fliers. Describe the finer points of your home, state the price, include a floor plan, if possible, your contact information, and details about your community. Indicate that you're selling the house yourself and welcome callers who want to make an appointment to view. Go online for templates, printers and services that organize your brochure for you.
Distribute the fliers. Contact local companies that are known for attracting employees from out of the area, like colleges and large corporations. Keep a supply of fliers in a tube that's attached to the bottom of your professionally made "for sale" sign that's on your lawn. Give the fliers to everyone who visits your home for a showing or an open house.
Make a YouTube video of your home and post it. Distribute the link to your network of friends and include it on all printed and online materials. Twitter about the reactions you're getting, and post interesting tidbits about the process of selling a home yourself on Facebook. Don't turn away readers by using the "hard sell" approach in your social networking.
Take out classified advertisements in your local newspaper and any popular local magazines, many of which automatically include your listing on their online portal. Agree to pay a supplement to achieve this if they require one. Use online real estate sites to advertise your home, like Zillow, Trulia, For Sale by Owner and Realtor.com. Consider listing it on international sites if your location is attractive to foreign investors.
References
Writer Bio
Jann Seal is published in magazines throughout the country and is noted for her design and decor articles and celebrity *in-home* interviews. An English degree from the University of Maryland and extensive travels and relocations to other countries have added to her decorating insight.