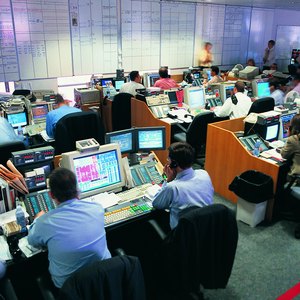 •••
Stockbyte/Stockbyte/Getty Images
The stock trading software program best for you depends on your style of trading, level of expertise and personal preferences. Some programs provide in-depth research, while others focus more on technology-powered trade execution. Still other programs focus on providing optimal customer service or cultivating a community of expert traders.
State-of-the-Art Technology
The two giants in desktop trading software are TD Ameritrade's thinkorswim and TradeStation. The thinkDesktop enables you to analyze, monitor and trade stocks, options and foreign currencies. With a handful of clicks, you can access dozens of charts, which stream real-time information, and over 200 technical studies. The platform also allows you to share workspaces, trade templates, studies and charts with other traders. Tradestation was designed for active professional investors, including hedge funds. It supports all trading types – stocks, options, forex and futures – and several monitors.
Research and Analysis
When it comes to providing third-party research and analysis, the full-service brokers – Fidelity, Schwab and TD Ameritrade – pull ahead of discount brokers. Fidelity has two desktop trading platforms – Active Trader Pro and Wealth-Lab Pro. While using these platforms, you can interact with Fidelity's trading specialists and receive personalized support. However, these services require that you maintain a $25,000 minimum in your Fidelity brokerage accounts and execute at least 120 equity, bond or options trades over a one-year period. Schwab's desktop platform, Streetsmart Edge, offers watch lists and pop-up notifications for executed orders. The platform also provides you with advanced charting for traders who require multiple charts.
Ease of Use
Positioned between discount brokers and full service brokers, E_Trade's desktop platform, E_Trade Pro, offers an array of features on every trader's wish list. The platform supports over 20 tools, including advanced charting, access to 60 different studies, streaming CNBC TV, portfolio-monitoring, real-time sales and a strategy scanner. You can customize your platform with snap-grid functionality. Because it's a Windows-based platform, it's easy to find and pull research. As for executing trades, the system is approaching speedy one-click functionality.
The Cost of Trading
You have to pay a $99 monthly maintenance fee for TradeStation and E_Trade Pro platforms. However, if your portfolio balance is at least $250,000 or you make 30 or more options or stock trades per quarter, E_Trade waives the monthly maintenance fee. For TradeStation, you have to maintain at least $100,000 in your account or trade a certain volume per month. For example, if you trade at least 5,000 shares of stock per month, you can have the monthly fee waived. In comparison, you can use TD Ameritrade's thinkDesktop and Schwab's StreetSmart Edge for free.
References
Writer Bio
Kay Tang is a journalist who has been writing since 1990. She previously covered developments in theater for the "Dramatists Guild Quarterly." Tang graduated with a Bachelor of Arts in economics and political science from Yale University and completed a Master of Professional Studies in interactive telecommunications at New York University.