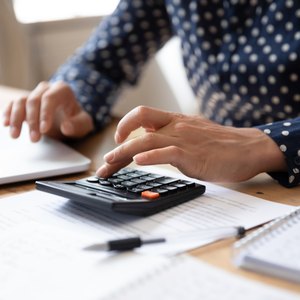 •••
fizkes/iStock/GettyImages
Coming up with the down payment to buy your house isn't the only cash you'll need at closing. You'll also have to pay a number of closing costs, which can range from ​2 percent to 5 percent​ of the purchase price of your house.
For example, if you were buying a house for a sale price of ​$300,000,​ you can expect your closing cost to be from ​$6,000 to $15,000.​
Not all closing fees are charged in every state – transfer taxes, for example – but here's a list of the most common closing costs. Fortunately, some of these fees can be paid by the seller or rolled into your mortgage. And don't forget that there may be notary fees along the way in your homebuying process.
What Are Closing Costs?
Mortgage closing costs are the fees borrowers pay when they purchase a house and take out a mortgage or refinance a current mortgage. These fees generally fall into three categories: property-related fees, mortgage-related fees and fees for the title company.
Your lender is required to provide you with a closing disclosure document prior to the closing date that contains all the costs and fees you'll have to pay. Some feels listed here depend upon the loan type but must apply to all loan types.
Property-Related Fees
Property-related fees focus on evaluating the status and condition of your new home.
​Property appraisal -​ Lenders need a professional property appraisal by an appraiser to determine the fair market value of your house to make sure the loan-to-value ratio meets their guidelines. Appraisal fees range from ​$300 to $500​ or more if you're buying a larger house.
​Home inspection​ - You should have your home inspected to find out the actual condition of your house and find any repairs that may be needed. You may discover, for example, that the house needs a new roof. If that happens, you will want to negotiate the price of the house down to include the cost of the repairs. The inspection fee will be a few hundred dollars but is worth the money.
​Lead-based paint inspection -​ This is an evaluation to find out if your house has lead-based paint that needs to be removed. Government loans require this inspection.
​Pest inspection -​ This is an inspection to determine if your house has termites or dry rot. It can be expensive to repair damage from dry rot or termites, and you need to discover any problems before you move in.
​Survey fee -​ A professional surveyor will validate the boundaries of your property. Not all states require a survey.
​Flood insurance​ - An outside party will determine if your property is located in a flood zone. If it is in a flood zone, you'll be required to purchase separate flood insurance. Standard homeowner's insurance does not cover damages from floods.
Mortgage-Related Fees
A mortgage lender charges a variety of processing fees with your loan application, credit evaluation and preparation of home loan documents.
​Application fee​ - Some lenders will charge a mortgage application fee of several hundred dollars for processing your loan application.
​Underwriting fee​ - An underwriting fee is another way lenders can charge for the administrative costs to process a loan application. It could be about one-half percent of the loan amount.
​Attorney fees​ - The lender will have their own legal fees for preparation of the loan documents. In addition, you'll want your own attorney to review the legal documents before you sign.
​Prepaid interest​ - You may have to prepay any interest that accrues between the closing date of your loan and the due date of your first mortgage payment.
​Loan origination fee​ - Some lenders will charge a loan origination fee, which could be a couple of hundred dollars. You may be able to negotiate this fee with your lender.
​Discount points​ - If you're buying down the interest rate on your mortgage by purchasing discount points, these will be due at closing. A discount point, or mortgage point, is 1 percent of your mortgage loan and will lower your monthly mortgage payment.
​Mortgage broker fee​ - If you used a mortgage broker to find your lender, the broker's fee will be due at closing.
​Credit report​ - The lender will check your credit report and credit score. The credit report fee will be about ​$25.​
​Private mortgage insurance​ - If your down payment is less than ​20 percent​ of the purchase price of your home, you'll be required to buy private mortgage insurance. With this mortgage insurance premium, you may have to pay the first month's PMI at closing. The rest will be part of your monthly payment.
​FHA and VA fees​ - FHA requires an upfront payment of ​1.75 percent​ of the loan amount of your FHA loan for mortgage insurance. The VA charges a funding fee for your VA loan that is based on the amount of your down payment and whether you're a first-time user of VA benefits or a subsequent user.
Title Company fees
The title company conducts a title search, handles the closing and collects any third-party fees that are due.
​Title search​ - Your title search fees cover the cost of the title search that will make sure that the title is clear and determine if there are any issues with ownership or liens. You want to be absolutely certain that you have a free and clear title to your property, and that someone is not going to challenge your ownership a few years after you move in.
​Lender's title insurance​ - Vendors will require a title insurance policy in case any problems with ownership develop after the sale. This policy will cost about 1 percent of the loan amount.
​Owner's title insurance​ - The owner will also want their own title insurance policy to protect their ownership in case some legal issues appear in later years.
​Closing fee -​ This is the fee paid to the title company for handling the closing.
​Deed recording fees​ - These are the fees for recording your purchase in the public records of your local city or county.
​Transfer fee​ - Some state and local municipalities charge a transfer fee whenever a piece of real estate changes owners.
​Prepaid property taxes and insurance​ - You may be required to prepay or make an escrow deposit for up to two months of property taxes.
​Homeowners Association assessments​ - The seller will usually pay for any transfer fees charged by the homeowners association (HOA). You should review the association's financial statements and minutes to be sure the association has sufficient reserves and find out if there are any special assessments or other pending legal actions that could become a problem.
​Homeowners insurance -​ This is insurance that covers any damages to your property. You could be required to pay the premium for your first year at closing.
​Courier and postage fees​ - These are charges for transporting loan documents between attorneys, the lender and the title company handling the closing.
Some closing costs can't be avoided, but others can be negotiated. Not all lenders charge all fees, so it pays to shop around.
References
Writer Bio
James Woodruff has been a management consultant to more than 1,000 small businesses. As a senior management consultant and owner, he used his technical expertise to conduct an analysis of a company's operational, financial and business management issues. James has been writing business and finance related topics for work.chron, bizfluent.com, smallbusiness.chron.com and e-commerce websites since 2007. He graduated from Georgia Tech with a Bachelor of Mechanical Engineering and received an MBA from Columbia University.