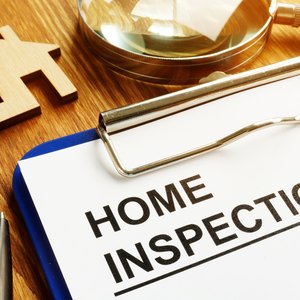 •••
designer491/iStock/GettyImages
How do you know the home you're buying doesn't have serious issues? Two words: home inspection. By having a qualified home inspector check out a property - from crawl spaces to the water heater and everything in between - before you close on it, you could end up avoiding a very costly mistake.
What Is a Home Inspection?
Once you've found your dream home, your real estate agent may recommend you pay a professional inspector to go through a home inspection checklist. There's a reason your agent makes that recommendation. A home inspector goes through a house and ensures everything is in good working order before you finalize your sale.
Typically, a professional home inspection is done by a home inspector who looks at all vital aspects of a home that affect the condition of the home in terms of safety and utility. A good inspector will examine a home's electrical system, plumbing, system HVAC (heating and air conditioning system), roof, foundation and structural components. The entire home inspection process takes only ​two to three​ hours and ends with a report that tells you, as well as your lender, if the home is a safe buy.
Why Are Home Inspections Important?
When you're buying a home, a home inspector can identify serious problems in the home that you wouldn't have the expertise to see. If the home is found to have serious structural defects, for instance, you could end up with a house you can neither live in nor sell to someone else. It's a protection for you, the buyer, as you take out a loan for hundreds of thousands of dollars to buy a property.
But there are other serious issues an inspector can pinpoint. A home may have asbestos, radon or mold, for instance, and those hazards could put you and your family in danger. A home inspector may also identify fire hazards due to improper wiring, potentially saving your life.
How to Find a Home Inspector
It's important that home buyers hire their own home inspector. A seller's home inspector will look out for the seller's interest, not yours. Usually, the best route to go is to ask your real estate agent for a recommendation.
Whether your real estate agent has a referral or not, though, it's important to research the credentials of anyone you bring in. The American Society of Home Inspectors holds its members to high professional standards. You can input your ZIP code into the search engine on their homepage and find a list of inspectors close to you.
In addition to ASHI certification, also look for inspectors who have been background-check verified. This is especially important if you'll be meeting the inspector alone at the site. If possible, check around to see if you can get information on the inspector, including reviews from previous customers, before you officially hire that person.
Cost of a Home Inspection
The cost of an inspection and home inspection report will vary from one professional to another. But you can expect to pay between ​$300 and $500​ for the service. Before you hire a home inspector, ask for a cost estimate, as well as a description of the work that will be performed. The cost can vary dramatically based on where the home is located and its size.
If you're having a tough time coughing up all the money required to buy a home, ask your real estate agent if you can negotiate so that the seller pays for the home inspection. If the seller goes for it, make sure that you still have the power to choose the inspector. Also keep in mind that in negotiating inspection costs, you may give up the opportunity to negotiate in other areas, such as the home price or closing costs.
Are Home Inspectors Trained?
Certified home inspectors are thoroughly trained and tested before they take their first assignment. The process can vary from one certification organization to another, but the American Society of Home Inspectors provides education, training and certification to its members.
If you want to become a certified home inspector, it's also important you learn the business aspects. You'll need to be able to set and stick to a budget, market your business, network with real estate agents and lenders and provide professional, courteous services to every customer. ASHI-certified inspectors also have access to continuing education to ensure they are always applying the latest standards to the work they do.
Negative Home Inspection Findings
If your home inspection report comes up with dozens of items, don't panic. It's actually very common. Inspectors are trained to identify every potential problem, and many of their findings can be quickly fixed. Try to identify your deal-breakers before that report comes back. If there's serious structural damage, for instance, you'll take it far more seriously than a wiring issue in a closet that can be fixed before move-in.
Speaking of move-in, it's important to make sure that any contract you place on a house has an inspection contingency. This states that although you're committing to buy the house and placing an escrow deposit, your contract is contingent on passing a home inspection. If the issues can't be fixed before closing, the deal is done.
Sellers and Home Inspections
When you're on the seller side of the equation, a home inspection looks a little different. If you're the seller, there's some good news, though. The buyer usually is responsible for paying for the home inspection. You'll just need to wait for the results.
But responding to the home inspection report can be fairly challenging. The home inspection process can uncover costly repairs, including plumbing leaks, serious electrical issues and drainage problems. You'll need quick and easy access to professionals who can make these last-minute repairs to ensure you'll still be able to close on time.
One way you can offset this risk is to hire your own home inspector to go through your property before you put it on the market. Although this won't guarantee a buyer's inspector won't find something yours doesn't, it can at least give you a heads up about serious issues that could keep you from closing. You can then decide whether to invest the money into fixing it before you put it on the market.
Inspections: New vs. Old Homes
It can be easy to assume that older homes will have a tougher time passing a home inspection than a newer home. This is especially true if the plumbing or electrical system hasn't been replaced in a while. Regulations change, and even if these systems are in functioning order, they may not be up to today's codes.
But buyers shouldn't assume a new home can squeak by without a problem. Home inspectors routinely find issues in newly constructed homes, which are often built by large teams of workers. Someone might not have fully finished one task before moving to another, for instance.
In addition to a home inspection, if you're buying a new home, you may want to ask if it comes with a warranty. You'll want to know that the builder will come back and fix any issues that pop up months after you move in. You may find, though, that many builders will only offer that warranty for the first year.
Buying "As Is"
Some home buyers, looking for a great deal, may be tempted to buy a home that comes with an "as is" warning. This warning states that if there are issues, the home seller won't fix them before closing. You are agreeing, when you place the contract, to buy the home regardless of any problems you discover.
The problem with buying an "as is" house is that not all problems are easily repaired. The home could have serious water damage or an unstable foundation that can devastate your home value. For that reason, if you do opt to buy an "as is" house, a home inspection is crucial.
Dealing With a Bad Inspection
There are some instances where the home inspection report reveals serious issues, some that might not be easily fixable. If structural issues are found that make the house unstable, for instance, you may find that the necessary repairs will run tens of thousands of dollars. If the seller isn't willing to foot the bill or the repairs can't be done in time, it may be wise to back out of the deal.
The first place to turn if your inspection is particularly dire is your contract. Hopefully, there's an inspection contingency built into it. But even then, the inspection report will need to show that the problem was pretty serious. Otherwise, it could look like you're using the inspection contingency to wiggle out of a contract after changing your mind during the home buying process.
Crucial vs. Non-Crucial Repairs
Home inspectors look for a variety of issues. Not all require attention. An inspector might find cosmetic issues that are not safety issues and don't affect the value or structural integrity of the building. The seller is not required to repair every issue listed on the report.
But there are some serious issues that do require attention. In fact, a lender may not release the funds if a home has issues like termites, building code violations or structural defects. The seller should fix those problems before closing. Typically, issues that create a safety hazard will need to be repaired, especially if the borrower is using an FHA loan to finance the purchase. And, radon testing is a good idea.
Home Inspector Liability
Even the best home inspector will miss a thing or two. They are human, after all. Before you hire an inspector, take a close look at the contract, reading even the fine print. You'll want to make sure inspectors you choose don't absolve themselves of all responsibility for errors.
That said, an inspector does have limited liability. Home inspector liability ends at visible areas. If the inspector can't access a certain area of the home or flaws aren't in plain view, that inspector won't be responsible for not seeing problems in those areas. If, for instance, there's water damage beneath the carpet or hardwood that can't be seen without ripping out the flooring, the inspector can't be held responsible.
If you discover something that the inspector should have caught, the inspector could be held liable for paying for the repairs. Look closely at the contract you signed and get a bid for the repairs before contacting the inspector. If the missed item was obvious and impacts the value or livability of your home, it may become necessary to get legal counsel involved.
A home inspection takes only a few hours but can identify serious issues with a home that will put your investment in jeopardy. By shopping around for a qualified home inspector, you'll get the peace of mind of knowing that you're buying a home without major problems. But you'll also have the chance to request that the seller repair some of the issues before closing so that you aren't saddled with the cost after move-in.
References
Resources
Writer Bio
Stephanie Faris has written about finance for entrepreneurs and marketing firms since 2013. She spent nearly a year as a ghostwriter for a credit card processing service and has ghostwritten about finance for numerous marketing firms and entrepreneurs. Her work has appeared on The Motley Fool, MoneyGeek, Ecommerce Insiders, GoBankingRates, and ThriveBy30.