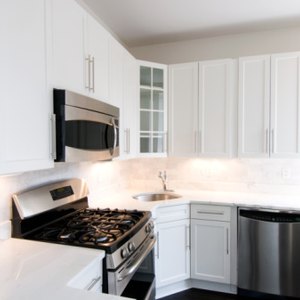 •••
Jupiterimages/Photos.com/Getty Images
In many homes, the kitchen is the central gathering place and hub for the family. When it has has a dated or shabby look, though, it can become less than comfortable space. Remodeling a kitchen is a costly project, however, so it may not be an option for all budgets. Fortunately, there are several inexpensive ways to redecorate your kitchen so it has a fresh new look. Focus on updating the appearance of one or two key elements in the room, and it will become a space where your family enjoys spending time.
Change the Walls
To give your kitchen a facelift without spending much money, change the wall coverings. Paint and wallpaper are both relatively inexpensive and are available in a wide range of colors and patterns. If your kitchen is currently painted a neutral tone, go with a brighter shade, such as red, yellow or orange. Cover solid-colored walls with wallpaper in an interesting pattern that features bold colors. You may also mix paint and wallpaper by painting the bottom half of the wall and covering the top portion with a patterned wallpaper in complementary shades. Add an inexpensive chair rail to separate the two, and give your kitchen walls a fresh, polished look.
Paint Your Cabinets
Cabinets that are covered with a dark stain typically have a dreary, dated look that can drag down the entire look of the room. Painting the cabinets in a lighter tone can help make the space feel brighter and more airy without breaking the bank. White paint is an ideal option for giving your cabinets a fresh, bright look. If you prefer a warmer tone, opt for beige or cream. Robin's egg blue, mint green and butter yellow are brighter options as well. If you prefer a more modern look for your kitchen, go with black paint for a sleek, new look. Once you have painted your cabinets, add new hardware such as handles and knobs to complete the makeover.
Dress up the Windows
Although a minor detail, changing the window coverings in your kitchen can also make a significant difference in the room's look. If you are using plain white blinds or shades, add decorative curtains in a bold color or funky pattern. You can make them yourself if you enjoy sewing, or purchase premade curtains from a home goods or mass merchandise store. If you prefer shades, look at more decorative options, such as Roman shades or wood blinds, to give the windows a more distinctive look.
Install a New Backsplash
Changing the look of your backsplash is another way to instantly transform the look of your kitchen. Forgo expensive options like traditional tile or stone, and choose inexpensive peel-and-stick tile instead. These tiles come in a variety of colors and patterns, many of which mimic the look of more expensive backsplash materials. Metal peel-and-stick tiles are an attractive option and are available in both stainless steel and copper finishes. They often have a modern flair but can be incorporated into a variety of decors.
References
Writer Bio
Based in New York City, Jennifer Blair has been covering all things home and garden since 2001. Her writing has appeared on BobVila.com, World Lifestyle, and House Logic. Blair holds a Bachelor of Arts in Writing Seminars from the Johns Hopkins University in Baltimore, Maryland.