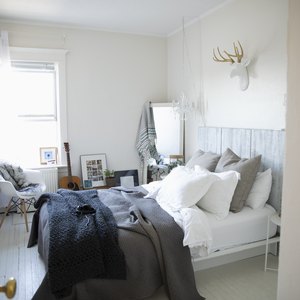 •••
Hero Images/Hero Images/GettyImages
Increasing a home's square footage by adding a room is of the biggest home improvement projects. It's also one of the most expensive. Unfortunately, many homeowners find that the return on investment (ROI) of adding a bedroom is generally lower than many other renovations. In some cases, moving to a larger home makes more sense than financing a bedroom or master suite addition.
Investing in Home Improvements
The value of a home improvement project is often measured by the amount of money it adds to a home's resale price within the next few years. Most renovations add some value, but in many cases, the amount of value added is far less than the cost. This may be an acceptable tradeoff for homeowners who plan on staying in their home for several years and are investing in home improvements that add to their quality of life. On the other hand, if a home is going to be sold within a few years, it's important to weigh investment vs. return value when planning home improvements.
High-Value Home Improvements
There are certain improvements that real estate experts say are more likely to increase a home's resale value. According to Remodeling Magazine, basic home maintenance projects like replacing worn siding or a leaky roof will add more value to a home than an expensive kitchen or bathroom remodel. A minor kitchen remodel can return more than 80 percent in value, while replacing a front entry door or garage door can return more than 90 percent.
The cost of adding a room compared to the value it returns to the home depends on several factors, including the home's location and the type of room being added. The top rooms that add value to your home are kitchens and bathrooms. In these rooms, modest changes can have a higher return value than upscale remodels. For example, replacing outdated cabinets and swapping out tile and Formica countertops for granite and quartz are high-ROI improvements.
Homeowners should look at their entire home when considering a major renovation. Experts say that having a new kitchen or master suite that outshines the rest of the house can actually hurt its resale value. Also, rooms that are out of proportion to the rest of a home may only appeal to a small set of buyers. The best additions, according to HGTV, look like they were always part of the property or match the existing structure as much as possible.
Master Suite vs. Bedroom
Adding a bedroom to a home is more straightforward than adding a master suite that includes a bathroom. Even so, master suite additions are becoming more popular because they add comfort to a home, while bedroom additions are usually more functional. Features typically included in master suites are walk-in closets, sitting areas, home offices and soaker tubs. The amenities and extra features provided by a master suite can increase the appeal and value of a home, as can the addition of a bathroom as well as a bedroom.
Value of Adding a Bedroom
Remodeling Magazine releases an annual survey on the average cost of the most popular home improvements and their return values. Master suites rather than bedrooms were part of the 2018 survey. The average cost for a midrange master suite addition was $123,420 in 2018. This type of basic addition, which typically includes new carpeting, paint and lighting plus extra square footage for the home, brings a 57 percent return value, or $69,807.
An upscale master suite addition, which might include amenities like built-in storage, a high-end fireplace and walk-in closets, cost an average of $256,229 in 2018. The average return was 48 percent, or $123,797. Compare this to a mid-range minor kitchen remodel costing an average $21,198 and returning 81 percent in value, or $17,193.
Consider the Neighborhood
Real estate website Zillow recommends considering your neighborhood when budgeting for home improvements. It can be harder to sell a house that's priced much higher than others in the area because of its improvements. On the flip side, having the shabbiest house on the block can also make it harder to find a buyer. According to Zillow, the best home improvements for adding to a home's value are painting, modest kitchen and bathroom remodels and landscape improvements that add curb appeal.
Using Other Spaces for Bedrooms
A less expensive way to add a bedroom is by converting or repurposing other space in the home. Attics, basements, bonus rooms and other unused areas can be made functional with a much smaller investment than building a new room. According to the National Association of Realtors, the national average cost of converting an attic to a bedroom is $75,000 and the average return value is $40,000, or 53 percent.
There are many things to consider when repurposing an unused space for a bedroom. For an attic, the ceilings must be high enough and the floor strong enough to bear the weight load of a functioning bedroom. Ductwork may need to be rerouted and stairs and windows added or refurbished. In a basement, dampness and a lack of light may need to be addressed as well as hiding existing plumbing, wiring and ducts. Stairs and windows are also an issue in basements.
The garage is another existing space that is sometimes converted to a bedroom. The cost may be less than converting an attic or bedroom, but experts advise against it if you plan to sell the house in the near future. Most buyers are looking for a home with a garage to park a vehicle or take advantage of extra storage space. In fact, Kiplinger's reports that 86 percent of homebuyers are looking for garage storage space in the home they purchase. Rather than removing a garage, improving it by installing storage cabinets, improved lighting and flooring will make it even more attractive to buyers.
Bumping Out a Bedroom
A bump-out is an addition that attaches to the side of a house without changing the profile of the roof or foundation. Some homeowners use a bump-out to increase the size of an existing room in order to use it as a bedroom or to add a closet to a bedroom conversion. It works best on homes with roof overhangs and finished floors that sit higher than the grade of the surrounding yard, but in many cases, the roof and foundation can be slightly extended.
Despite its name, a bump-out addition is both safe and secure when well-planned and constructed. HGTV reports that a bump-out can be about 15 percent less expensive than a conventional addition if no foundation work is needed and up to 30 percent cheaper if no roof changes are required. As with all home additions, it's important to make sure the design of the addition is in keeping with the home's design.
Removing Bedrooms Not Advised
Some homeowners decide to remove the wall between two small bedrooms to create a single, larger bedroom. Empty nesters whose children have left home are especially attracted to this idea. Realtors advise against this change unless a homeowner plans on reverting back to two bedrooms before selling the house. The difference between the 2 bedroom vs 3 bedroom resale value can be significant enough to make it worthwhile to add the wall back.
References
Writer Bio
Catie Watson spent three decades in the corporate world before becoming a freelance writer. She has an English degree from UC Berkeley and specializes in topics related to personal finance, careers and business.