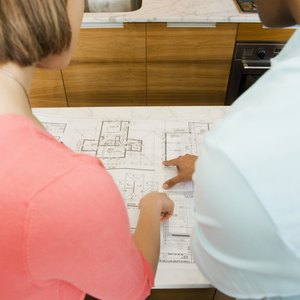 •••
Jupiterimages/Creatas/Getty Images
Remodeling a home takes time, energy and most of all, money. Homeowners often focus on funding projects that add value to the price of the home. Generally speaking, a home addition that increases the functional space of a house -- such as adding another bathroom -- is more valuable than a project that makes the house look better aesthetically. The return-on-investment estimates include the cost of professional labor, which can vary based on company and region.
Adding a Bathroom
Installing an additional bathroom, particularly if your home only has one, is a cost-conscious investment. Find the space for a second bathroom by scrutinizing under-used spaces in your home, such as guest rooms or large closets. Half-baths require at least 18 square feet of space, according to MoneyCrashers.com, while a full bath with a stand-up shower needs at least 30 square feet. Adding a full bathroom with a tub requires at least 35 square feet. According to Remodeling Magazine's 2013 Cost vs. Value Report, you'll recoup nearly 55 percent of the cost of adding a mid-range bathroom and add more than $20,000 to the value of the home.
Adding an Outdoor Deck
Installing a deck adds square footage to your home, which increases the value. A wooden deck is more budget-friendly than using composite materials; however, a composite deck adds more value to the home. According to the Cost vs. Value report, you'll regain 77 percent of the cost of a wooden deck and 67 percent of a composite deck, but the latter adds $10,000 of value while the former adds just over $7,000.
Adding an Attic Bedroom
Creating additional living space is a sure-fire way to add value to your home, and one way to do that is to turn the unused, dusty attic into a fresh bedroom. This addition will cost approximately $48,000, according to Remodeling Magazine, but it's significantly cheaper than other room additions, says U.S. News and World Report. A living room addition can cost upwards of $80,000. An attic bedroom addition will tack on approximately $35,000 to a home's value, and you'll get back around 73 percent of the money you put into it. Other living space additions that will increase resale value and have a high return on investment are a master suite addition, family room addition, sunroom addition and garage addition.
Adding a Second Story
Building another story on your home is undoubtedly one of the most-expensive additions you can undertake -- an average of $152,000, according to Remodeling Magazine -- but it also adds nearly $100,000 of value to the home. Before beginning construction, contact the local zoning office to ensure you're legally allowed to add another story. Some codes have height restrictions.
Adding a Steel Entry Door
Installing a steel front-entry door is the number one project in the Cost vs. Value report, with homeowners recouping more than 85 percent of the cost. A steel door adds security to the home and increases energy efficiency. It's also more cost-efficient than adding a fiberglass door. The fiberglass variety adds approximately $1,800 to the home value, while steel doors add around $1,000. A new door also boosts curb appeal, according to Remodeling Magazine's editorial director, Sal Alfano, in an article in U.S. News and World Report.
References
Writer Bio
Kelsey Casselbury has a Bachelor of Arts in journalism from Penn State-University Park. She has a long career in print and web media, including serving as a managing editor for a monthly nutrition magazine and food editor for a Maryland lifestyle publication. She also owns an Etsy shop selling custom invitations and prints.