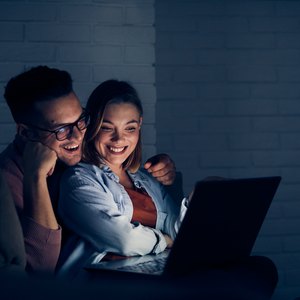 •••
Paperkites/iStock/GettyImages
With cable and satellite TV costs continuing to increase for customers of providers like Comcast and AT&T this year, it's a great time to start seeking some alternatives so you can downsize or even eliminate your traditional TV service and save some money. After dealing with annual rate increases, considering my viewing habits and looking at the many alternatives available, Hulu has stood out as a very inexpensive entertainment service that can sometimes offer even more flexibility than cable TV can. Here's what my experience was like choosing and using Hulu and how I took advantage of the savings.
What Led Me to Hulu
While I had checked out Hulu off and on over the years, it was seeing my cable bills rise annually more and more that finally led me to strategize how I could use the streaming service to cut my TV costs. I had subscribed to the top package that my cable company offered for a few years and had received a two-year promotion through which I could get service on three TVs for around ​$100 per month​ with taxes and fees included. However, when that period expired, I got a bill closer to ​$120 per month​ for the same channels, cable boxes and features.
After considering how irregularly I even watched regular TV, I realized I mostly took advantage of a few channels like Freeform, TLC, Fox, ABC, FX and NBC and preferred watching on my phone, tablet or computer. These TV channels just didn't seem worth paying ​$120​ for cable on top of my other bill for internet access. So, I went online to check the types of TV shows and movies featured on popular streaming services, and I realized that Hulu actually included programs from these channels.
Considering that the Hulu original plan with ads was only ​$5.99 monthly​ or ​$59.99 annually​ (plus tax), I quickly realized I could save a lot of money by rethinking my cable TV service. While I didn't want to cut the cord entirely since some family members preferred traditional TV, I was able to contact the cable company and downgrade to the basic plan that would cost a much more tolerable ​$65 per month​. Part of the savings also came from being able to eliminate service on one smart TV that I would no longer need cable on thanks to Hulu.
What I Liked About Hulu
Besides the obvious cost savings, using Hulu has brought a lot of flexibility and convenience to entertainment in my experience. I have enjoyed being able to watch popular TV shows such as "Grey's Anatomy" and "Good Trouble" the day after they air and not needing to use a DVR or log in to each network's website to do so. It's been convenient being able to watch TV shows and movies on Hulu on my iPhone or iPad when I've been away from home. I've liked that the service has become even more compatible over time to work with devices like my smart TV and the Amazon Echo Show.
Hulu's diversity of plan options and available add-ons have also appealed to me, so I've tested several over the last year or so. For example, I've tried both the plans with and without ads, but ultimately stuck with the cheaper version since the ads didn't bother me much. I've tested out the Hulu Live TV service and saw the potential to possibly cut the cord entirely in the future. I've tried the premium add-ons for HBO Max, Showtime and Starz and liked the convenience of watching premium TV from one place, and some even seemed a little cheaper than through my cable company.
How I Used My Savings
After cutting my monthly cable bill from ​$120 to $65​ with the plan downgrade, I've seen my cable bill drop by ​$55​ a month, or a whopping ​$660​ a year. Even counting the ​$59.99 plus tax​ paid for an annual subscription to the Hulu basic plan, I've still seen close to ​$600​ a year in savings. This extra money in my monthly budget has opened up various opportunities.
I've used some of the savings for fun stuff like trying new add-ons like HBO Max and experimenting with other subscription services like Netflix and Amazon Prime to access an even larger streaming library. Some of the money has also helped with going out with family to restaurants and on day trips as well as taking on new hobbies like learning to play musical instruments.
However, I've particularly worked on reducing my debt and saving for the future. For example, I've been able to get ahead on my car payment as well as pay down a credit card I used to purchase a piano. I also started putting extra cash occasionally in my savings account through Ally Bank as well as my Betterment IRA. According to a compound interest calculator, if I really wanted to benefit, I discovered I could put the ​extra $50​ every month into an investment account earning ​7 percent​ interest and have close to ​$3,500​ within five years.
Trying Hulu to Save Money
If you've noticed that your cable bill also seems to keep climbing, I'd recommend taking a look at which channels you and your family watch, which devices you like to use and what other options your cable TV provider has. You can take a look at the Hulu website to see the types of movies and TV shows offered and determine if they're what you often watch on your regular TV. You might find that you can downgrade your cable TV service and still have access to your favorite content. However, you will want to make sure you have a fast internet connection and compatible devices to make the switch.
When trying out Hulu, you'll find that you get access to a free trial that can give you some time to more carefully assess your decision, and this can also help you with choosing whether to go ad-free. Further, the premium services like Hulu TV and add-ons like Starz and Showtime come with at least a week to try out free too. You can also consider the popular Hulu bundle including the ESPN and Disney streaming services to boost your entertainment offerings without too much strain on your budget.
References
Writer Bio
Ashley Donohoe has written about business and technology topics since 2010. Having a Master of Business Administration degree, bookkeeping certification and experience running a small business and doing tax returns, she is knowledgeable about the tax issues individuals and businesses face. Other places featuring her business writing include Zacks, JobHero, LoveToKnow, Bizfluent, Chron and Study.com.