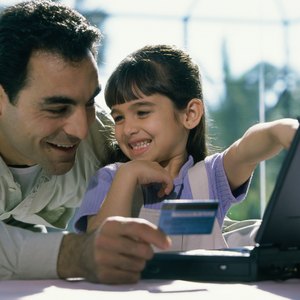 •••
Purestock/Purestock/Getty Images
Visa prepaid cards are available through many different issuers, including banks, retailers or Visa itself. Each issuer provides different features, benefits and fees, so you'll want to select the prepaid Visa that suits your needs best. However, the processes for using your card are the same, regardless of the issuer.
Activation
Deposits and Loads
Purchases
Any money available on your prepaid Visa card can be used to make in-store and online purchases. If you don't have enough money on your prepaid Visa to pay for your entire in-store purchase, the cashier will ask for another form of payment to cover the balance. This is a benefit you won't get with regular debit or credit card transactions, which will simply decline if you don't have the available balance to cover a purchase. In addition, you can use your card to pay any one-time or recurring bills as long as the bill provider accepts Visa cards. You also can pay for gas at the pump and withdraw cash at ATMs.
Liability Protection
Visa offers each prepaid cardholder a "Zero Liability Policy." This policy protects you from having to pay for purchases you did not authorize. The policy also protects you against charges made to your account if your card is lost or stolen, either physically or online. If you suspect your account has been used fraudulently, or if you lose your card, contact your card issuer immediately. If you still have the card in your possession, call the number on the back of your card to file your report. If you do not have the card, call the customer service number shown on any of your account statements, or log in to your account online and click the "Contact Us" tab.
References
Writer Bio
With a background in taxation and financial consulting, Alia Nikolakopulos has over a decade of experience resolving tax and finance issues. She is an IRS Enrolled Agent and has been a writer for these topics since 2010. Nikolakopulos is pursuing Bachelor of Science in accounting at the Metropolitan State University of Denver.