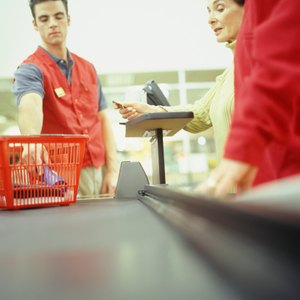 •••
Ryan McVay/Photodisc/Getty Images
The Minnesota Department of Human Services offers food and cash assistance to eligible recipients. You can receive the benefits by qualifying through the Food Support Program for eligible families and single adults or the Minnesota Food Assistance Program, which is available to non-U.S. citizens aged 50 and older. When approved for benefits, you will receive an Electronic Benefit Transfer card and the program electronically issues your monthly food or cash benefits. You can use your EBT card to purchase food at stores and, if you receive cash assistance, cash at automated teller machines and stores.
Activate Your MN EBT Card
After you qualify for assistance, you will receive your Minnesota EBT card. Once you receive the card, it is important that you sign the white stripe on the back. Next, locate and call the customer service number (888-997-2227) on the back of the card to activate it. Follow the prompts and enter the card number to select a personal identification number. Much like a bank-issued debit or credit card, you will not be able to use the card until you activate it.
What Am I Able To Buy?
With your Minnesota EBT card, you are able to purchase food items as well as plants and seeds for growing your own food. You cannot, however, use your SNAP card to buy non-food items such as alcohol, vitamins, pet food or prepared hot foods. A quick visit to the Minnesota Department of Human Service's website will produce frequently asked questions about SNAP detailing these restrictions.
Making EBT Purchases
To make EBT purchases, simply visit the store of your choice and select the food you would like to purchase. Next, take your items to the cash register to check out. After the store clerk finishes ringing you up, you'll receive your total and swipe your EBT card at the point-of-sale machine in the store. You will need to give the card to the cashier if there is no POS machine.
Choose the Payment Type
You can select to use the card for EBT Food, or EBT Cash, if you would like cash back and you have cash benefits linked to your card. Enter your PIN and hit "Enter" to complete your transaction. Select "Yes" when asked if you would like cash back, if you have cash benefits on your card. Choose the amount of cash you would like and press "Enter" if you agree with the total amount. Lastly, take your cash, your receipt and your card, if you gave it to the cashier.
References
Tips
Visit an ATM to withdraw cash only. You cannot withdraw cash from your food stamp benefits.
There is a $2 fee for a replacement card if your EBT card is lost or stolen.
Call the customer service number on the back of the card if you have any problems using your card.
Writer Bio
Based in Georgia, Loletrazina Church has been a professional freelance writer for more than 24 years. She has written several health-care articles and advertisement publications for websites such as KennethCole.com and Panasonic.com. Church attended Delgado College with a major in surgical technology.