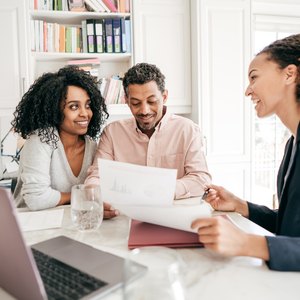 •••
kate_sept2004/E+/GettyImages
USDA-backed loans provide moderate-income people in rural areas the opportunity to buy a home or rehabilitate their home. As with any loan, the prospective buyer must meet requirements to obtain financing. He must be unable to obtain financing from another source – but he must also have sufficient credit and income to be creditworthy under the program's underwriting guidelines. If a borrower does not meet certain underwriting requirements, he may have other options to help with qualification. The U.S. Department of Agriculture program allows others to be on the loan – either as cosigners or as additional parties.
The USDA allows cosigners to support a loan applicant if they can successfully prove that they have the ability to pay back any loan which the original applicant may default on.
Adding Cosigners
USDA's underwriting guidelines let qualified cosigners be added to the loan application to help increase the borrower's purchasing power. The guidelines will not allow the use of a cosigner to make up for a borrower with unacceptable credit history, however. Items such as unfulfilled federal debt, income tax liens, or past foreclosures could disqualify the buyer or cosigner entirely. Cosigners must also have a verifiable debt-to-income ratio of 41 percent or less and show the ability to repay the loan.
Additional Parties
Unlike cosigners who do not live in the home and are only helping increase a borrower's buying power, additional parties on the note will live in the new home. As with cosigners, the proposed additional party must meet the USDA's acceptable credit, debt ratio and income guidelines. If the additional party does not meet the requirements for a borrower under the guidelines, she will not be approved.
Other Considerations
If your loan officer tells you that your credit is unacceptable, your loan officer may be able to suggest ways to mitigate negative credit information and show your ability to repay a home loan – but this is no guarantee of loan approval. Ask your loan officer for suggestions to help improve your credit. Order a copy of your free credit report from annualcreditreport.com to help identify inaccuracies and problem areas.
Denied Financing
The difference between good credit and poor credit can cause problems with obtaining financing through the USDA's program. It could also limit your purchasing options. Time can heal a poor credit rating. Through being aware of your credit and working to improve it, you will be in the best possible position to be approved for a loan – without needing a cosigner.
References
Writer Bio
Mason Tilford-Mabry has extensive experience writing human resources and training materials, both as a corporate manager and as a small business owner. He is a graduate of Bowling Green State University with a Bachelor of Liberal Studies degree. He is currently pursuing a Master of Arts in English: technical communication from Minnesota State University, Mankato.