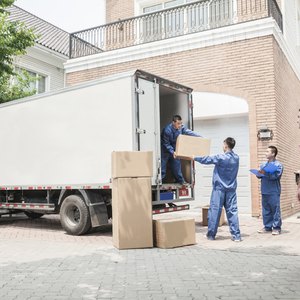 •••
XiXinXing/XiXinXing/Getty Images
Right Job. Wrong location. This set of events doesn't necessarily knock you out of the running for a new job, but it means that to accept a job you may be forced to relocate to another city. If so, you should evaluate not only the position and its location but also the probable out-of-pocket costs of your relocation. To accomplish this goal, you'll need to know if you'll be offered a relocation package -- a financial incentive to accept a job in a new city -- and what particular costs are covered by the package.
Shipping Fees
Your job grade, seniority and other factors will influence the elements in your relocation package. It's not unusual for a company to show its commitment to your continued employment by assisting you with certain relocation costs, such as the cost to ship your household goods and vehicles to a new location. These costs include packing materials, the labor required to pack your household goods and load and unload them from the moving van, and the cost to transport the goods and vehicles to your new location. The company might also pay van company personnel to unpack your goods in your new home.
Loss From Home Sale
The consequences of accepting a position in another location may include a financial loss due to the sale of your current home. To prevent this occurrence, your employer may agree to cover the difference between your home's sales price and what you owe on the home. According to the 46th Annual Atlas Van Lines 2013 Corporate Relocation Survey, about 38 percent of respondent firms offered employees this loss-on-sale protection.
Mortgage Assistance
If a relocation means selling one home and buying another, you may find that your existing mortgage rate is lower than the current rate. To negate the financial impact of the difference in the two rates, a company may pay a portion or all of your closing costs, as well as your real estate agent fees. Your employer may buy down the interest rate on a new mortgage or offer you a short-term loan at a low interest rate to assist with dual mortgages when you buy a new home before selling the old one. Your company may also pay a portion of the down payment on your new home.
Travel Expenses
The big rewards of a relocation come with big costs, such as travel expenses. Of the companies that responded to the 46th Annual Atlas Corporate Relocation Survey, 47 percent reported that they reimbursed employees for their travel expenses from a current home to a new location for the employee and his family.
Temporary Housing Benefit
If you must wait to find your new home until after you begin work at your new location, you'll incur temporary housing costs. In some cases, your employer will pay these costs for a time, while you search for permanent housing. The Relocation Assistance: U. S. Domestic Transferred Employees Executive Digest, published by Worldwide ERC reports that of the 154 members who responded to the WERC survey, 72 percent provide this benefit to employees and their families.
Home-Finding Trip
When you develop a relocation budget, you'll need to include a pre-move visit to the new city to look for a house or apartment. These costs include transportation, room and board. According to the Worldwide ERC survey, almost nine of 10 organizations reimburse a homeowner or renter transferee for home-finding trip expenses. Of the companies that reimburse homeowners for home-finding trips, about 66 percent pay expenses for the employee and spouse. Sixty-five percent of the companies reimburse home-finding trip expenses for renters and their spouses.
Cost-of-Living Adjustments
To minimize the unknowns of your relocation, compare your current cost-of-living to that in the new city. If the difference between the two is significant, your company might offer you a cost-of-living adjustment to minimize the financial impact of your relocation. In some cases, a company may raise your salary to compensate you for the higher living expenses. In other cases, a company might pay you a one-time lump-sum relocation bonus to help with the out-of-pocket expenses you incur due to the move. At other times, a company may pay you a cost-of-living allowance for a specific time, such as three years.
References
Resources
Writer Bio
Billie Nordmeyer works as a consultant advising small businesses and Fortune 500 companies on performance improvement initiatives, as well as SAP software selection and implementation. During her career, she has published business and technology-based articles and texts. Nordmeyer holds a Bachelor of Science in accounting, a Master of Arts in international management and a Master of Business Administration in finance.