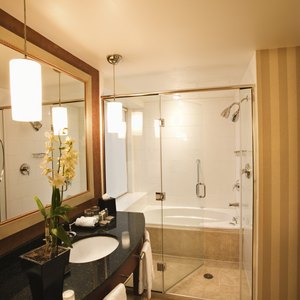 •••
Thinkstock/Comstock/Getty Images
Of all the rooms to remodel in a house, the bathroom is possibly the easiest to budget because of the basic options all bathrooms require. Unlike other rooms, a small bathroom doesn't require many decisions about what to include: a toilet, shower, wall cover, flooring, vanity and fixtures are the main elements to consider. If you have DIY skills, a simple remodel of new paint or wallpaper, flooring and fixtures can cost less than $300. Depending on the size of your bathroom, your tastes and if you plan to sell your home, your target buyer, you can spend more than $10,000 on a bathroom remodel.
Walls
The walls of a bathroom are usually papered, painted or tiled. Your wall covering should be a water-resistant material, such as a high-gloss paint. Painting a typical, non-spa bathroom usually requires one can of paint, which can run anywhere from $30 to $50. Wallpaper costs approximately $25 to $50 per roll, covering about 30 square feet of wall per roll. If you choose to tile your walls, expect to pay anywhere from $500 to $1,000 dollars, including materials and installation, for a 75-square foot bathroom, according to the HomeWyse website price calculator.
Flooring
Your basic options for flooring are tile, wood and carpet, with faux or synthetic options for tile and wood coverings. Costs vary widely depending on the material you choose and whether you need to use a professional installer. Your best bet is to use an online flooring calculator that lets you enter the square footage you want to cover and the type of material you want to estimate. Expect your budget to vary from the low hundreds to more than $1,000, depending on your choice of material.
Tubs/Showers
You can replace or upgrade a tub or shower, depending on your budget. To make an old tub look new, re-glaze it instead of replacing it. This can cost approximately $400, according to the Bathtub Refinishing Association of America. While this is more expensive than purchasing a new, low-end tub, you can avoid the removal and installation costs that come with replacing a tub. Converting a tub to a shower can cost more than $5,000, despite the low cost of some kits you see in home stores, because of the removal and installation work needed.
Toilets
Toilets can cost from less than $100 to more than $3,000, excluding installation. Low-flow toilets reduce water bills and add value to your home. With a tax credit offered by your local municipality, a budget low-flow toilet can cost less than $250 and pay for itself in less than three years. Installation of a replacement toilet is relatively quick and can cost about $50, depending on your area.
Fixtures
You can go bargain or high-end when you choose faucets, shower heads, towel racks and light fixtures, spending less than $100 or more than $1,000. Don't install towel racks into dry wall if you don't have some DIY expertise, or you might pull the rack out of the wall the first time you reach for a towel, resulting in drywall repairs. Install a low-flow shower head to reduce your water bills; you can get them for less than $20.
Vanities and Sinks
As with most other bathroom options, vanity choices are almost endless. Whether you're looking for a pedestal sink or a single or double vanity that provides storage underneath, expect to pay anywhere from $100 to more than $1,000. While you can reglaze an existing sink, the time, effort and cost will more than likely negate any benefits over buying a replacement, which can cost as little as $100.
References
Resources
Writer Bio
Steve Milano has written more than 1,000 pieces of personal finance and frugal living articles for dozens of websites, including Motley Fool, Zacks, Bankrate, Quickbooks, SmartyCents, Knew Money, Don't Waste Your Money and Credit Card Ideas, as well as his own websites.