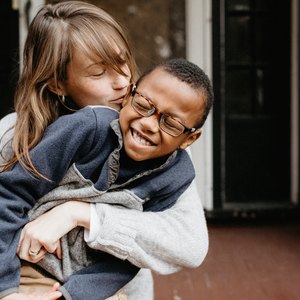 •••
Shaw Photography Co./Moment/GettyImages
Although each state sets their own requirements, many of the welfare programs offered across the country are universal. They also tend to base their assistance on the U.S. Department of Health & Human Services' poverty guidelines. For 2018 this equates to $12,140 for a single individual and $25,100 for a family of four. Alaska and Hawaii have poverty guidelines that are slightly higher. If your household falls under these guidelines, you'll want to apply for assistance from one or more of the available welfare programs in your county of residence.
Temporary Assistance for Needy Families (TANF)
The most basic welfare definition is assistance given to individuals and families in poverty or need. Often this involves financial assistance, which most states refer to as TANF. The Washington, D.C. Office of Family Assistance lists the following four reasons for providing this type of welfare to its eligible community members:
To aid families in caring for their children in their own homes

To help adults become adequately prepared for the work place and find employment

To lower the number of children being born outside of marriage

To increase the number of households where two parents are able to raise their children

There are two types of TANF that individuals and families can apply for. There is a one-time payment for families and grandparents to help pay for food, clothing, housing, transportation and other basic needs in a crisis, as well as a monthly cash payment for families. In the state of Texas, the maximum monthly allotment for one individual is $101, while a family of five with two parents can be approved for as much as $421 a month.
Supplemental Nutrition Assistance Program (SNAP)
SNAP benefits are also commonly known as food stamps. Although each state has their own application, some of which can be completed online, the USDA offers a handy prescreening tool that you can use to do a quick eligibility check. Once you apply for SNAP, no matter which state you're in, you can expect to receive a written reply within 30 days. Those who are approved will receive an Electronic Benefits Transfer (EBT) card that they can swipe at approved stores to pay for food items.
The USDA does state that under certain circumstances, it is possible to get emergency SNAP benefits within seven days of applying. Applicants who have less than $100 in cash with income under $150 a month, or income and resources that are less than one's monthly rent and utilities will likely qualify.
Unlike TANF, families are permitted to have as much as $2,250 in countable resources, or $3,500 if anyone in the household is disabled or over the age of 60. SNAP also takes into consideration a host of deductions, such as dependent care deductions and excess shelter cost deductions. The maximum monthly SNAP benefit for one individual is $192. A family of four may be awarded up to $642 a month with a family of eight getting as much as $1,155.
So what foods are you allowed to buy with your EBT card? The USDA permits cardholders to purchase the typical foods found in a grocery store, as well as seeds for planting and growing your own foods. The organization does not allow the benefits to be used for hot or prepared foods that can be eaten in the store. Vitamins, pet foods, alcoholic beverages and nonfood items are also not permitted.
Low Income Home Energy Assistance Program (LIHEAP)
One of the different kinds of welfare you can apply for is heating assistance, formally known as LIHEAP. Most counties have one application that not only covers assistance through LIHEAP, but also provides additional benefits to those that qualify from the Universal Service Fund (USF). Through these programs, applicants can receive a heating assistance check for their gas or oil supplier, a reduction on their monthly electric bill and even weatherization services.
Typically, households that receive LIHEAP or USF also qualify for their county's Board of Public Utilities Winter Termination Program, which prevents suppliers from shutting off utilities between November 15 and March 15 when the weather is at its coldest.
Income limits for energy assistance programs vary across the country. New Jersey allows a family of four to earn $4,184 per month and still qualify for LIHEAP and $3,661 for USF. If you find your income falls outside of those parameters, you may still be able to get some help. New Jersey, for example, also has NJ Shares and Comfort Partners programs.
Healthcare Assistance
Your local social services office will also help you apply for healthcare if you meet their qualifications. This includes Medicaid coverage, as well as health insurance. In New Jersey the program is called NJ FamilyCare, while Pennsylvania residents will find the program is referred to as the Children's Health Insurance Program (CHIP).
Depending on your income and family size, you may not have to pay a dime for the insurance. The higher your income and family size, the higher your monthly subscriber cost and copay will be (although this will still be much lower than if you obtained the policy on your own). For example, with NJ FamilyCare a family of four can make $3,138 per month and have no copay or monthly premiums, but if the family income rises to $5,230, they will have to pay $44.50 per month plus a $5 to $35 copay when visiting a doctor. It is important to ask who is covered under the program, as some programs only cover children, while others cover adults and children.
Housing Programs
Most states offer the Section 8 Housing Choice Voucher Program (HCVP), which provides low-income families, the elderly and disabled with rental payments to make living more affordable. In the state of Maryland, applicants must have an annual income that is less than 50 percent of the median income in the area they wish to live. Massachusetts, on the other hand, requires applicants to have income that does not exceed 30 percent of the median income. Unfortunately, in many areas the demand for this program is so high that applicants may find themselves on a long waiting list.
Check with your local social services agency to see if there are any other housing programs you can apply for. Massachusetts has two additional programs: the Massachusetts Rental Voucher Program (MRVP) and the Alternative Housing Voucher Program (AHVP). Minnesota has a Family Homeless Prevention & Assistance Program (FHPAP) and Connecticut has a Rental Assistance Program (RAP).
Supplemental Security Income
Another type of welfare program is Supplemental Security Income (SSI), which is available through the Social Security office. The program is designed to supplement the income of the elderly, blind and disabled, as well as parents of minor children with disabilities. In addition to meeting certain income requirements, individuals cannot have more than $2,000 in resources. Couples are permitted up to $3,000.
Those who qualify for SSI may also automatically be enrolled in Medicaid. Some states may require you to complete a separate application for Medicaid through your local social services office. The maximum monthly SSI payment amount for 2019 is $771 for an eligible individual, $1,157 for an eligible couple and $386 for an essential person. This is a 2.8 percent increase from 2018. Once approved, recipients will be required to report their income to the Social Security office monthly.