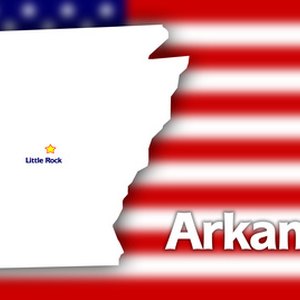 •••
Arkansas state contour against blurred USA flag image by Stasys Eidiejus from Fotolia.com
Low-income people in Arkansas can get help with medical, food and utility bills. In addition, there are programs that help them weatherproof their homes, pay their taxes, obtain training and find work. Different programs have different income eligibility requirements, so just because you aren't eligible for one program doesn't mean you can't qualify for another. Each one should be checked out separately.
ARKids First
ARKids First is a state insurance program for children under the age of 19 who aren't insured. Two benefit packages are available. ARKids A gives comprehensive benefits to children under 18 and has no deductibles or co-payments. ARKids B children under 18 limited coverage and requires a small co-pay of $10 when the child visits a doctor. There are no deductibles for ARKids B. Both programs cover dental services, too. Income guidelines vary depending on the age of the child and the size of the family. An income guideline chart is available on the ARKids website.
Medicaid
Full Medicaid coverage is available to parents of children under the age of 18 if there is an absent, disabled or unemployed parent, and they meet certain requirements regarding their residency and resources. Needy pregnant women who meet requirements are also eligible for full coverage. Low-income families that don't meet the income guidelines to qualify for full-coverage might be eligible for temporary help from the Medicaid Spend-Down program, if they're spending a large part of their money on medical costs.
SNAP
The Supplemental Nutrition Assistance Program (SNAP) replaces the Food Stamp Program in Arkansas. It helps eligible low-income families cover part of their food costs every month by giving them an Electronic Benefits Transfer (EBT) card that they can use to pay for food when they're shopping. Applicants must meet income and resource standards and some work-related rules may also apply. Individuals can visit the Access Arkansas website to determine if they're eligible for this and other state programs.
TANF
Temporary Assistance for Needy Families (TANF) works to keep families together. One way it does this is by providing cash assistance on a monthly basis to low-income families who are expecting a baby or have a child under 18. Participants in this program may be expected to look for a job. Individuals receiving TANF might also be eligible for the Transitional Employment Assistance (TEA) program that provides work training and support services to parents. TANF also administers Diversion Assistance, which is a one-time payment that helps fix a financial problem so an adult in the family can get or keep a job.
Community Action Agencies
Arkansas provides money through the Community Services Block Grant Program to help support programs and services provided by Community Action Agencies. Help is available in a number of areas like job assistance, financial training or emergency assistance after an uninsured disaster. Families can apply for help at their local Community Action Agency.
HEAP
The Low-Income Home Energy Assistance Program (HEAP) helps low-income families pay part of their fuel costs. Help with weatherproofing homes is also available through Weatherization Assistance. Families can apply for help through their local Community Action Agency.
Legal Help
Legal Aid of Arkansas and the Arkansas Legal Services Partnership help low-income people find the resources they need to file their taxes. A tax-filing tool on the Legal Aid of Arkansas website helps people fill out tax forms for free. In addition, Legal Aid of Arkansas provides legal services to low-income individuals in non-criminal cases. There is no cost for their help.
References
Resources
Writer Bio
Lani Thompson began writing in 1987 as a journalist for the "Pequawket Valley News." In 1993 she became managing editor of the "Independent Observer" in East Stoneham, Maine. Thompson also developed and produced the "Clan Thompson Celiac Pocketguides" for people with celiac disease. She attended the University of New Hampshire.