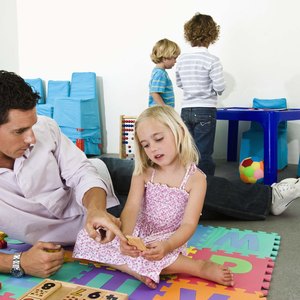 •••
Jupiterimages/Goodshoot/Getty Images
Most parents have thought about their children's future college tuition expenses and some may already be saving to help give their children a leg up. However, not all parents have considered the cost of preschool, which can be just as daunting. With preschool tuition rates exceeding several hundred dollars per week, parents may be looking at other means, such as grants and scholarships, to help them afford schooling for their children.
About Tuition-Based Preschool
Tuition-based preschool programs are innovative types of early childhood education in which preschool students get to be part of a large-school community by attending a special program at an elementary school. In these play-based programs, children stay for a full day, and participate in academic as well as "special" classes, such as art and music. The programs are flexible, and children's parents can determine if they nap, as well as what time of day they are dropped off and picked up.
Funding
Unlike other public preschool programs, such as Head Start, tuition-based preschool is just that -- tuition based. This means that federal or state grants are not used to run the program -- parents' tuition covers operating costs. For this reason, parents with children in tuition-based preschool must pay tuition, and they generally cannot get waivers or exemptions from the school that they wish their child to attend.
Foundation Scholarships
Although schools require students enrolled in a tuition-based preschool program to pay tuition, they do not generally care who pays the student's tuition. In other words, it's possible for students who cannot afford to attend these preschools to get funding from community and education foundations. For example, some United Ways offer preschool and child care scholarships.
Other Options
Parents who cannot afford tuition-based preschools may still be able to get grants from other preschools or attend preschools that are funded through federal or state dollars. For example, some private religious and nonreligious preschools offer scholarships to pay full or part tuition for students from low-income families. Head Start, a federally funded preschool, also offers free programs for those at or below poverty level.
References
Writer Bio
Miranda Morley is an educator, business consultant and owner of a copywriting/social-media management company. Her work has been featured in the "Boston Literary Magazine," "Subversify Magazine" and "American Builder's Quarterly." Morley has a B.A. in English, political science and international relations. She is completing her M.A. in rhetoric and composition from Purdue University Calumet.