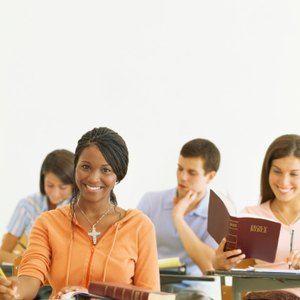 •••
Stockbyte/Stockbyte/Getty Images
Christian high schools offer the traditional high school education found in public schools, in addition to a Christian education. In the United States, over 100 private Christian high schools exist in 2011, and are located in nearly every state, according to the National Center for Education Statistics' Private School database. Several scholarships and grants exist for parents who cannot afford the high costs of a private Christian high school education.
National Organizations
There are national organizations that help students from various backgrounds attend a private Christian high school. One of these is the Alliance for School Choice, which offers a number of scholarship programs in each state. Scholarship programs through the Alliance exist for low-income, special needs, foster and military students; scholarship amounts vary depending on the state and the school chosen by the parents. Scholarships also come from national organizations dedicated to certain types of students, such as the scholarships from A Better Chance, open to students of color to use to attend certain private Christian schools throughout the country.
Regional and State Associations
Scholarships for private Christian high schools also come from associations and groups operating at the regional or state level. State-level organizations that offer scholarships include the Association of Christian Schools International, which administers the Children's Tuition Fund of Pennsylvania and the Children's Tuition Fund of Rhode Island. Both funds allow students to attend a private Christian high school in their state.
Scholarships also come from regional associations, such as the $6,000 (as of July 2011) Renaissance of Values Scholarship Fund offered by the Community Foundation for Southeast Michigan. The fund is open to students attending one of three Christian high schools in southeast Michigan.
Local Sources
Students wanting to attend a private Christian high school can find scholarship help at the local level as well. Local organizations providing scholarships can be Christian groups, such as the Christian Scholarship Foundation, based in Prescott, Arizona, which offers scholarships to two Christian high schools in that city.
Other local organizations may be more secular in nature but still provide funding for Christian schools, like the scholarships from the Daniel Murphy Scholarship Foundation. The foundation targets students in Chicago, Illinois, to attend private schools, including Christian schools, in that area.
Christian High Schools
Scholarships for private Christian high schools also come from the schools themselves. Schools like Houston Christian High School in Houston, Texas, provide scholarships based on academic merit, personal talents and financial need. Schools may also offer scholarships that are open to certain types of students. An example is Lakeside Christian School in Clearwater, Florida, where students with disabilities qualify to apply for the McKay scholarships to attend that school.
References
Writer Bio
Lindsey Thompson began her writing career in 2001. Her work has been published in the Cincinnati Art Museum's "Member Magazine" and "The Ohio Journalist." You'll also find her work on websites like Airbnb, Chron.com, and USAToday.com. Thompson holds a Bachelor of Science in journalism from the Scripps School of Journalism at Ohio University.