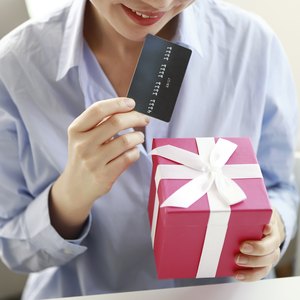 •••
RUNSTUDIO/Photodisc/GettyImages
Visa gift cards are often ideal presents for friends and family who live out of the area, college students or for people who seem to have everything. Recipients can use the card to buy what they need or want in a store or online, anywhere that accepts Visa. When using a Visa gift card, it's a good idea to keep track of the purchases you make, so you know what your balance is. This way, you'll know how much is left on the card for future purchases.
Call the Customer Service Number
One way to check the balance of your card and to hear your recent transactions is to call the customer service number listed on the back of the Visa gift card. You'll need to follow the prompts to enter your gift card number and any other identifying information provided when you activated the card. This may be a PIN, your year of birth or the last four digits of your phone number. Once you're identified as the card's owner, the automated system will reveal your balance. Listen for additional options to review your past purchases.
Visit the Card Issuer's Website
Another quick way to check the Visa gift card's balance is to create an account on the card issuer's website. For example, TD Bank supplies Visa gift cards that you can activate, register and review your transaction history using their online portal. To create an account, you'll need to input the card's 16-digit identification number and CVV number, which is the security code found on the back of the card. You'll also need to choose a user ID and a password for the account. After logging in to the account, you'll be able to view your balance and all purchases you made using that specific card.
Download the Card Issuer's Mobile App
Many Visa gift card issuers have a mobile app that you can use when you're away from your computer and you want to check your purchase history. After downloading the app, you should be able to sign in using the same information you provided when setting up your online account. The balance should be displayed on the screen and you should see an option to view recent transactions.
Sign Up for Alerts
To better keep track of your spending habits, and for added security, it's a good idea to sign up for text or email alerts. You can set the alerts to go off each time you make a purchase with your Visa gift card, or each time the purchase exceeds a specific amount. You can turn this feature on or off as needed.
References
Writer Bio
Alicia Bodine is a New Jersey-based writer specializing in finance. With more than 13 years of experience, her work has appeared in LendingTree, GoBankingRates, Sapling, Zacks and budgeting.thenest.com.