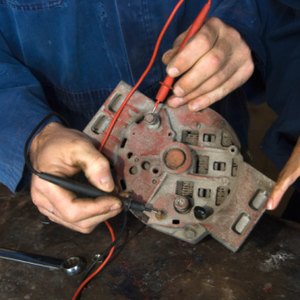 •••
Jupiterimages/Photos.com/Getty Images
Trade schools are idea for adult learners or people who want to change careers. Displaced workers who need to reenter the work force quickly may also benefit from a trade school educational program. Trade school offers programs that focus on specific skills rather than on courses that are not necessarily beneficial in the workforce. These skills have the potential to yield high-paying positions, and students can complete them in as little as three to four months. Students who graduate from a three or four month trade school program will earn a certificate or diploma rather than a degree.
Admissions
Requirements for admission to a three or four month trade school vary from school to school. However, the common requirement is candidates must have a high school diploma or a High School Equivalency Diploma (GED). Students who have not earned a high school diploma or GED may also be candidates for admissions once they pass a state approved ability-to-benefit skills test. Schools may also impose an age limit as a condition for admission. Most trade schools require an application fee.
Enrollment Options
Potential applicants for a trade school's three to four month program may choose between enrollment in a traditional educational setting or an online learning environment. Online education offers flexibility to students. It is also an option for those who want to attend an out-of-town trade school that offers this learning environment. However, applicants should be aware that online education may not be a suitable option for all. It is important to assess personal learning styles since some students may require face-to-face contact with professors rather than learning through computer interactions.
Financing
The U.S. Department of Education's Federal Student Aid Program will finance a trade school education provided that the trade school meets the department's standards. Students who enroll in a trade school that does not meet the department's standards are required to use personal resources to fund their education. However, students who enroll in an eligible trade school program are eligible for financial aid provided that they meet eligibility guidelines.
Students who are eligible for financial aid must demonstrate a financial need and must have a high school diploma or GED. Students who passed a Department of Education approved ability-to-benefit test are also eligible for financial aid. Financial aid guidelines also mandates that students have a Social Security card and are citizens of the United States or are eligible non-citizens. Registration with selective service is also a requirement for students who are required to register. Eligible students must also certify that they are not in default of a financial aid loan and that they will restrict the use of financial aid funds to educational related expenses.
Programs
Trade schools offer several programs that students can complete in four months or less. For example, an appliance repair program teaches students to repair electrical and small appliances. Graduates of this program have the option to work independently or to work for an established repair shop or appliance dealer. A personal computer fundamentals program also lasts for four months or less. This training prepares workers for promotions or makes those seeking employment more marketable. Four months or less is all the time that may be needed to train as a physical therapy aide. Students that graduate from this program could become part of a professional team that provides physical therapy services to customers who receive services from physical therapy offices, home health agencies or personal care facilities.
These programs are flexible and offer students the opportunity to complete their studies independently from their home. After students are enrolled in their program, instructors will send them instruction sets. After an instruction set is complete, students take the exam that corresponds to the instruction set. Once students complete all instruction sets for their program and pass all exams, they are eligible to receive their certificate or a diploma.
References
Writer Bio
Alva Hanns began writing professionally in 1993. Her publications include "Social Justice isn't a Myth." She blogs on political websites and is the author of "I Remember the Time" and "God Fulfilled His Promise." She has a Bachelor of Science in social work from the University of Indianapolis and a master's degree in social work from the University of Alabama.