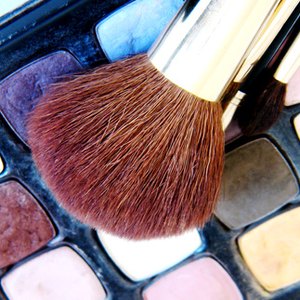 •••
makeup display and brush after makeup was done image by Nellie Vin from Fotolia.com
Makeup artists can find work creating dramatic looks for beauty salons, fashion magazines, dance companies, TV shows, movies, and stage productions. While some makeup artists are completely self-taught, many others find that attending school for further training in makeup design and technique is a necessary step to reach their career goals. Whether you envision yourself working as an esthetician, painting the lips of runway models or crafting latex prosthetics for movie monsters, there are a number of funding options available for a person interested in studying makeup design and artistry.
Explore federal funding opportunities available to you. Prior to enrolling in a college/technical program, you should complete your FAFSA (Free Application for Federal Student Aid) form. Depending on your personal financial situation, you may qualify for federal Pell Grants, the Academic Competitiveness Grant, or the Federal Supplemental Educational Opportunity Grant.
Contact the school you plan to attend and inquire about any program-specific grants, scholarships, or fellowships that may be available. The school's admissions office and/or department heads should be able to confirm the existence of any scholarships that you may be eligible for, as well as the application process.
Research any specialized grants that may be applicable to you. For example, many grant and scholarship programs are targeted to very specific groups of people, such as women, minorities, or those with a disability. One resource to start with is the website FastWeb (see Resouces).
Network with fellow make-up professionals through organizations like the Hair and Makeup Artist Network, the American Association of Cosmetology Schools (AACS) and the Cosmetology Educators of America (CEA). The AACS manages the ACE grant program for makeup artists looking to further their education.
References
Resources
Writer Bio
Tucker Cummings is a freelance writer based in New England. She holds two Bachelor of Arts degrees from the University of New Hampshire and is a member of the Association of Professional Business Writers. Cummings is also a food writer and curates the blog, Brave New Breakfast.