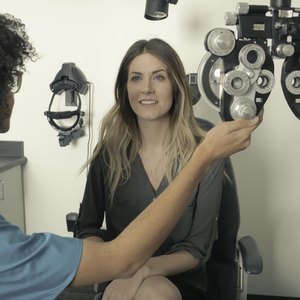 •••
pick-uppath/E+/GettyImages
If you don't have health insurance or your health insurance doesn't pay for vision care, you'll have to pay for your eye examination out of pocket. While the cost of an eye examination isn't cheap, it's also not prohibitive, and it's worth every penny to catch an eye disorder early on or to correct your vision. The actual cost of an eye exam varies by region and by individual clinics.
Standard Eye Exams
A standard eye examination consists of taking a patient history, reading of an eye chart to determine visual acuity, depth perception evaluation, muscle movements, side and peripheral vision as well as pupil response to light. A keratometry test measures the cornea's curvature, while refraction testing determines the type and strength of corrective lenses needed. Depending on the findings, the optometrist may want to conduct supplemental tests.
Seeing Private Eye Doctors
A private eye doctor's services will cost more than a discount provider, but you are receiving more individualized service. If you require additional eye care, you will likely see the same doctor. On average, an eye exam conducted in 2018 by a private optometrist will set you back about $192. If you have a history of serious vision issues, you're probably better off paying a little more for an eye examination from a private doctor who can follow your case.
Discount Retailer Clinics
Many large retailers offer discount eye care clinics, making them a good option for cost-conscious consumers. Walmart is one of the biggest providers of these services. In 2018, the average cost of an eye exam at Walmart starts at $75, while an exam and contact lens fitting costs between $125 and $145. Prices may vary by location. Sam's Club, a Walmart subsidiary, is less expensive than its parent company, with an eye exam starting at $45 and an exam and contact lens fitting beginning at $75. Costco offers eye exams starting at $70, and exams and contact lens fittings at $105 and up.
Just because you these eye-care clinics operate in large retail chain stores does not mean they are inferior. Only doctors of optometry can perform eye examinations and related services. You are not examined by a nurse or other paraprofessional. These chains offer the best-known brands of eyeglasses and contact lenses.
Discount Eye Clinics
Head to any major mall and you're likely to find an optical chain store. One of the largest, Pearle Vision, offers eye examinations starting at $89, while exams and contact lens fitting range between $139 and $159. Another such chain, LensCrafters, offers a routine eye exam starting at $73 and an exam and contact lens fitting for between $113 and $170. These chains also have a wide range of designer and other eyeglass frames from which to choose.
The Biggest Expense – the Eyeglasses
While LensCrafters and Pearle Vision are competitors, they are owned by the same company, Luxottica, which also owns Sunglass Hut International. An Italian company, Luxottica is the world's largest eyeglass manufacturer. It's easier to name the eyeglass brands it doesn't own than the ones it does. If you're familiar with Ray-Ban, Coach, Chanel, DKNY, Oliver Peoples, Polo Ralph Lauren, Prada, Michael Kors and Valentino, those are just a few of the designer glasses marketed by Luxottica. While an eye exam is relatively reasonable, that's not the case with many of these frames, which can easily run several hundred dollars at the lower end.
References
Writer Bio
A graduate of New York University, Jane Meggitt's work has appeared in dozens of publications, including Sapling, Zack's, Financial Advisor, nj.com, LegalZoom and The Nest.