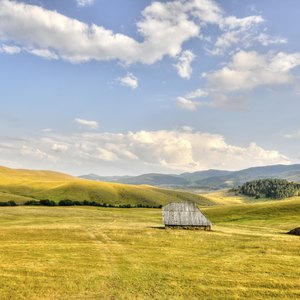 •••
panemoj/iStock/Getty Images
Texas is a big state, and honorably discharged military veterans can own their own little piece of it through the Texas Veterans Land Grant program. Administered by the Texas Veterans Land Board, the program aids veterans in the purchase of raw land as well as many types of existing dwellings. The program does not provide construction financing.
Texas Veterans Land Board
Even before Texas became a state, it boasted a tradition of granting land to returning members of the military. "In the early days, it was in the form of land given by the state for military service in the Texas Revolution," according to the Texas Veterans Land Board (TVLB). After World War II, the TVLB was created to administer land and home grants and loans to returning veterans. Over 200,000 veterans have benefited from this service, which is unique to the Lone Star State.
Texas Veterans Land Loans
Through the TVLB Veterans Land Loan Program, resident veterans may purchase land with only a 5 percent down payment at below-market interest rates. Program administration is paid through small fees charged on the individual loans. As of April 2011, loan limitations are 95 percent of the final purchase price, 95 percent of the appraised land value, or $80,000, whichever is less. Veterans should not pay for any part of the purchase prior to the closing. At the time of closing, payments include the TVLB loan amount, the 5 percent down payment in certified funds from the veteran, and any differential between the two amounts, if applicable, in certified funds from the veteran.
Texas Veterans Home Loans
The TVLB also aids veterans in home purchases, through the TVLB Veterans Housing Assistance Program. The program allows Texas veterans to purchase a dwelling with a low-interest loan and either no money or a nominal amount down. Eligible homes must be the primary residence and located in the state. Single-family homes, townhouses, planned-unit developments or condominiums all qualify for financing. Multi-family units may qualify if built five or more years prior to the closing. Certain modular or manufactured homes qualify for financing.
Qualifications for the TVLB Home Loans
Eligible veterans must work with a Veterans Housing Assistance Program lender and complete a Texas Veterans Home Loan application. Veterans must reside in the dwelling within two months of the loan closing, and the property must remain the primary residence for a minimum of three years. Disabled veteran may qualify for even lower interest rates on the home loan. For those veterans planning to build a house, the TVLB does not provide construction financing but provides "take-out" loans through participating lenders upon the home's completion.
References
Writer Bio
A graduate of New York University, Jane Meggitt's work has appeared in dozens of publications, including Sapling, Zack's, Financial Advisor, nj.com, LegalZoom and The Nest.