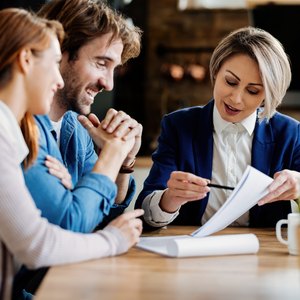 •••
Drazen Zigic/iStock/GettyImages
When comparing two different product types, the best choice usually depends on your individual circumstances. But when it came time for me to choose between term and whole life insurance, I realized that only one of these products is actually worth buying.
Read below to find out which type of life insurance I went with - and why you should make the same choice.
Term Life vs. Whole Life
There are two main types of life insurance policy: term and whole. A whole life policy will provide coverage from the day you sign up until the day you die, as long as your coverage remains active. Missing a few payments could negate your policy.
Term life insurance is bought in ​10, 20, 30 or 40-year increments​, so it will only last for the predetermined portion. Monthly premiums remain the same for the entire term and vary based on your gender, age and overall health. Smokers and those with chronic health conditions will pay more than non-smokers and those in good health.
In general, the younger you are when you buy the policy, the less you'll pay. Once the policy expires you can buy a new one, but this will usually have a higher monthly premium, because you'll be older and presumably in worse health.
Monthly premiums for a term life policy are much less expensive than a whole life policy, because term life covers a shorter window of time. According to insurance company PolicyGenius, the average 35-year old man buying a 20-year $500,000 policy will pay ​$28.97​ a month. The average 35-year old woman with the same policy would pay ​$24.39​ per month.
A whole life policy may cost ​five to 15 times more per month​ than a term policy, partially because whole life policies have a cash portion you can tap in case of an emergency. However, you can often earn more money by investing directly in the stock market with a retirement account.
Another downside to whole life insurance is that premiums may increase year to year as you get older. This can make it hard to plan ahead, sometimes causing consumers to lapse on their payments and lose their coverage entirely.
Why you don't need whole life insurance
The point of a life insurance policy is to cover you during your working years. That's why I don't believe in having a whole life policy.
When you're 80, you likely won't be producing any income or supporting anyone other than yourself. The only expense your family will incur is funeral costs, which you can just save for in advance.
When should you buy life insurance?
Most financial experts recommend buying life insurance when there's another person who depends on your income. That usually means having kids, being the breadwinner in your relationship or sharing a mortgage with your spouse.
If you're single and don't have children, you probably don't need life insurance. If your spouse could survive financially without your income, you could also get by without life insurance.
How much life insurance coverage should you buy?
Figuring out how much life insurance to buy is a complicated question. First, factor in any debt that your partner would struggle to repay by themselves. This may include a mortgage, auto loan, student loan, credit card balance, personal loan and more.
Next, calculate how much more you would have to spend on household tasks if your spouse wasn't around. For example, if your spouse currently does most home repairs by themselves, you would likely need to pay for that work. If your partner handles most child care responsibilities, you may have to pay for a babysitter or afters-chool care if they're no longer around.
You should also factor in the cost of a funeral, which can run up to $10,000.
A basic rule of thumb is to buy six to 10 times the annual salary of whoever the policy is for. For example, if you earn $50,000 a year, you should buy a policy between $300,000 and $500,000.
What kind of term should I get?
Most financial experts recommend buying a term life insurance policy that will cover your longest loan. For example, if you have a 15-year mortgage, the term on your life insurance policy should be at least 15 years.
How I Chose a Life Insurance Provider
When I first needed to choose a life insurance company, I applied with an insurance company directly. They quoted me ​$57.36​ for a ​30-year $500,000 policy​. I talked to a friend who's a former insurance agent, and he thought I could find a lower rate.
That's when I found PolicyGenius. I'd heard of them for years and decided to give them a chance.
Why I Recommend PolicyGenius
PolicyGenius is an online life insurance broker that compiles quotes from multiple companies so you can see all your available options. They include reputable companies like BannerLife, AIG, John Hancock, Liberty Mutual and more.
It's easy to get started on PolicyGenius, and the online application only takes a few minutes to complete.
After submitting my personal information, I had to schedule a medical exam. A nurse came to my house and took a blood and urine sample. After a week or so, the results were submitted to PolicyGenius, who sent them on to each life insurance company.
Then, I got my final quote: ​$45​ for a ​30-year $500,000​ ​policy​. By using PolicyGenius, I will be able to save ​$4,320​ in total over that 30-year timeline.
PolicyGenius has a 4.7 out of 5 rating on Trustpilot and an A- rating from the Better Business Bureau. There's no extra cost to using PolicyGenius, and you won't be penalized for not choosing one of their companies.
The Bottom Line
Some people choose not to buy life insurance, thinking that nothing bad is likely to happen to them. And that's probably true. For me, I couldn't handle knowing that if something did happen, my husband would be worse off financially. And that's the main point of life insurance – to know that your family will be protected when you're gone. Plus, when you buy term life insurance, you don't have to make a huge financial investment to get peace of mind. And that's what I have now.
References
Writer Bio
Zina Kumok is a freelance writer specializing in personal finance. A former reporter, she has covered murder trials, the Final Four and everything in between. She has been featured in Lifehacker, DailyWorth and Time. Read about how she paid off $28,000 worth of student loans in three years at Conscious Coins.