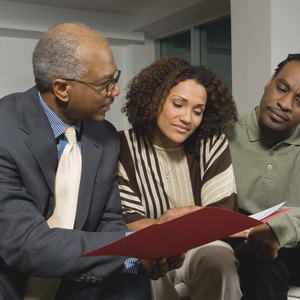 •••
Jupiterimages/Stockbyte/Getty Images
Deciding which life insurance policy works for you requires finding one that aligns with your budget and future financial objectives. If you already receive some life insurance coverage from your employer, you still may want to purchase your own individual plan to supplement that policy. The two main types of life insurance policies are term and whole life. Your insurer may also have "hybrid" or alternative options to these standard plans.
Term Life Insurance
Term insurance is a policy you pay for each month for a certain period of time, and you retain coverage only during that span. Term lengths vary from 1 year to 30 years or more. As long as a policy owner is current on premium payments during an active term, death benefits are guaranteed to be paid to the plan beneficiaries if the policy holder dies. However, at the end of the term the policy expires and beneficiaries no longer have death benefits. A policy holder then must purchase a new policy to continue life insurance coverage. The rates for term insurance typically are lower than whole life policies. As a result, they are a good option for someone looking to save money on premiums while still providing her family with benefits in the event of her passing.
Whole Life Insurance
Whole life insurance requires you to pay premiums for a certain period of time, but at the end of that period your policy is paid up. When you have paid all premiums required for the policy, you own it and your beneficiaries have guaranteed death benefits. Because you own the policy after all premiums are paid, this type of insurance also is called permanent life insurance. Monthly premiums typically are higher for this type of policy than term life policies. Whole life policies are a good option for someone who wants a policy intact after all premiums are paid, or for someone who wants a dual-benefit of death benefits and future borrowing ability.
Cash Value
An added perk of some life insurance policies is the ability to build cash value. If your plan has cash value, you have the option of withdrawing or borrowing that equity. Depending on your insurer, you may need to pay back amounts you've borrowed, or may simply forfeit a portion of the death benefits guaranteed under the policy. Traditional whole-life policies build cash value, while term policies do not.
Individual vs Group Policies
As an individual, you always have the option of purchasing your own term or whole life insurance policies. However, if you're an employee, your company also may offer group insurance policies. Some companies provide a nominal death benefit life insurance policy to all employees for free, with the option to purchase additional coverage offering higher death benefits. Group life insurance policies typically have the lowest premiums, but your coverage often ends when your employment with the company ends.
Alternative Options
Many insurance companies have started to develop additional products to suit a broader range of consumer needs. Some of these products offer a mixture of attributes to allow policy holders an opportunity to build the coverage that is best for their families. For example, a standard term life policy offers no return of premium. However, some companies now offer a term policy that, for a higher monthly payment, guarantees a return of all premiums paid if you outlive your policy term. If the standard term or whole life policy leaves you wanting just a little more, check with your insurance agent to see if other options are available.
References
Writer Bio
With a background in taxation and financial consulting, Alia Nikolakopulos has over a decade of experience resolving tax and finance issues. She is an IRS Enrolled Agent and has been a writer for these topics since 2010. Nikolakopulos is pursuing Bachelor of Science in accounting at the Metropolitan State University of Denver.