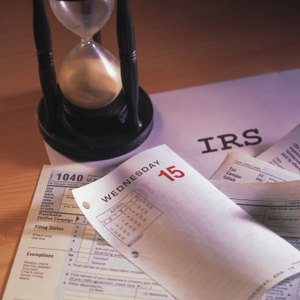 •••
Comstock/Comstock/Getty Images
Donors seeking a tax deduction for the money that they contributed to a charity will need the organization's taxpayer identification (ID) number. The taxpayer ID is on the organization's Form 990, which is required by the Internal Revenue Service (IRS) to report tax-exempt income for any given year. Because the financial data for tax-exempt charities is public information, there are four types of resources to find a charity's taxpayer identification number.
Check the charity's listing in GuideStar.org (see the Resources section). A ratings and reporting organization, GuideStar maintains financial, leadership and tax information on all charities and nonprofits in the United States. Although you will need to complete a free registration process to view the charity's Form 990 or its financial statements, GuideStar's database will help you find a charity's taxpayer ID number.
Use nonprofit foundation resources. The Foundation Center, a nonprofit that studies charities and grant-making organizations, publishes a variety of tools and directories to help you find a charity's tax identification number (see the Resources section). The Foundation Center's "990 Finder" and "Foundation Finder," which are two tools that display a charity's publicly reported financial information as well as its Form 990, will help you find a tax ID number with a few mouse clicks. Enter in the charity's name or location to discover its taxpayer identification number.
Search IRS resources. The Internal Revenue Service provides a host of resources to help the public find information about charities, including their taxpayer ID numbers. The IRS will research and copy an organization's Form 990, tax return or its tax exemption application—all of which contain a taxpayer ID number. The IRS also provides a compressed, downloadable version of its Publication 78 tool, which provides a complete list of all tax-exempt charities and their tax identification numbers (see the Resources Section).
Contact the charity's financial staff by telephone, email or through its website to obtain its taxpayer identification number. The organization's development or financial staff should be able to provide the taxpayer ID number, since all donors or vendors working with the charity will need that information. Explain why you want the number and keep it for your tax records. Many charities also publish the Form 990, along with annual reports, in print and on their websites.
References
Writer Bio
Matt Browning has been writing about health, science, food and travel since 1990. His career has spanned advocacy, medical communications and public relations and his stories have won awards from the Virginia Press Association. Browning earned a Bachelor of Arts in English language and literature from the University of Virginia.