Where to Get Taxes Done With Your Last Check Stub
by Bonnie Conrad ; Updated September 11, 2015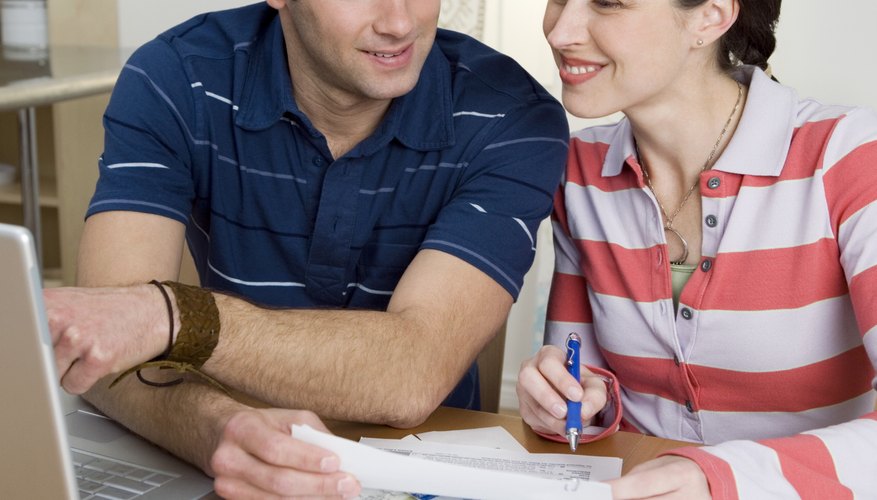 Taxes are a fact of life. How you react to tax time probably has a lot to do with whether you are expecting a big fat refund or a huge tax bill. If you are due a refund, you probably can't wait to get your taxes done. In that case, the minute you get your last paycheck of the year, you want to head right out to start the refund rolling.
H&R Block
H&R Block is without a doubt the major player in the tax preparation business. H&R Block is so big that it has been called the Walmart of tax preparation. Each tax season, this tax behemoth hires a virtual army of tax preparers to help its customers get the refunds they have coming. H&R Block is a great place to turn if you want to get your taxes done quickly. If you have your income information available, you can get your taxes done in no time at any H&R Block office, or utilize their online tax services to prepare and e-file your tax return.
Jackson Hewitt
Jackson Hewitt is another major player in the tax preparation market and the fact that it now has tax preparation kiosks in many Walmart stores makes it even easier to use. Jackson Hewitt also offers convenient services and the ability to figure your taxes and file your tax return based on the last pay stub of the year. If the income from your employer is your only income, you can head down to your local Jackson Hewitt store and walk out with your finished tax return. Jackson Hewitt also offers online tax preparation services.
Liberty Tax Service
Liberty Tax Service can also figure your taxes based on your final paycheck for the year. This major chain has many offices throughout the country to make filing your taxes fast and easy. Liberty Tax Service also provides electronic filing to make doing your taxes faster and easier.
Sears Stores
If you are heading out to your local Sears store, you may want to bring your pay stub along for the ride. Many Sears stores across the country now open up H&R Block kiosks when tax season rolls around to provide convenience to their customers, while increasing their sales.
Your CPA
If you use the services of a tax preparer or certified public accountant, you can start your taxes with your last paycheck. This assumes that you do not have any additional reportable sources of income, such as capital gains or interest. If you have additional income, it is important to wait until all of your paperwork has been received. But if all you have is the income from your job, the last paycheck of the year should have all the information your tax preparer or CPA will need to get your taxes filed quickly.
Community Service Organizations
The United Way and other community organizations provide free tax help to low-income taxpayers. Even simple tax returns can cost $100 or more, whether taxpayers choose a large national tax preparation service, a private tax preparer or a CPA. By taking advantage of these free community services, low-income taxpayers can put that money in their pockets.
Photo Credits
Jupiterimages/Comstock/Getty Images