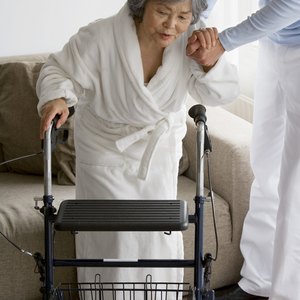 •••
Creatas Images/Creatas/Getty Images
As parents and grandparents age, retirement nest eggs deplete, sometimes leaving a younger generation of adult children to foot the medical and living expenses of their elderly seniors. According to The New York Times, more than 15 million adult children in America cared for aging parents or grandparents in 2006. The IRS provides tax deductions to individuals on whom elderly family members depend financially.
Dependency
If you provide elder care for your grandparent and personally pay more than half of your grandparent's living expenses for the tax year, you may qualify to claim your grandparent as a dependent for tax purposes. The IRS will only grant your grandparent dependency status if her personal income aside from Social Security benefits does not exceed the IRS personal exemption amount for the tax year. If you qualify to claim your grandparent as a dependent, you'll combine your grandparent's income with your own when you file federal income taxes, allowing you an extra personal exemption and lowering your overall tax liability.
Multiple Support Declaration
If you work together with other family members to contribute toward more than 50 percent of your grandparent's living expenses for the year, you may qualify for a multiple support declaration. Under a multiple support declaration, only one of the financial contributors may deduct the cost of your grandparent's total living expense support and take the dependency deduction if applicable. If the other contributors agree that you may take the multiple support declaration, you must have contributed at least 10 percent of the total amount of financial support. To claim a multiple support declaration, complete and file IRS Form 2120 with your federal income taxes.
Medical Expenses
If your grandparent has extensive medical expenses for the tax year for which you pay, you may take an additional tax deduction for the amount of your out-of-pocket medical expenses that exceed 7.5 percent of your adjusted gross income. According to IRS Publication 502, a qualified medical expense includes your grandparent's health insurance premiums, doctor's fees, hospital fees, prescription drug costs, assisted-living entrance fees, home accommodation adjustments and medical-related transportation.
Dependent Care Credit
If your grandparent cannot physically or mentally care for herself, requiring continuous supervision or care, you may qualify for the dependent care tax credit. Taxpayers commonly associate this credit with care for a dependent child, but the care you pay for on behalf of a parent or grandparent also qualifies. This could include costs associated with a cleaning service or a food preparation and delivery service. The IRS values the dependent care credit at up to 35 percent of your qualifying expenses for the tax year.
References
Writer Bio
Allison Westbrook is an experienced writer of three years with a passion for creating relevant articles for a wide readership. She attended Kilgore College and majored in English. Allison's articles have appeared on such websites as eHow and Trails.com. Her reflective writing angles deliver focused and consistent content.