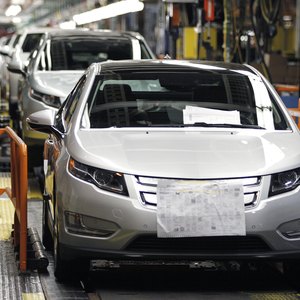 •••
Bill Pugliano/Getty Images News/Getty Images
The Chevrolet Volt is a hybrid vehicle that uses an electric motor most of the time but is equipped with a gasoline engine that powers an electrical generator to charge the battery on long trips. Chevy Volts qualify for a hefty federal tax credit. According to the National Council of State legislatures, many states also offer incentives for purchasers of Chevy Volts and other plug-in hybrids. Available incentives change, so check with your state's department of revenue for current incentive programs.
Claiming the Federal Tax Credit
The federal tax credit for Chevy Volts can trim $7,500 off of your tax bill. Purchasers of the Chevy Volt or other plug-in hybrids can claim the full credit until the manufacturer produces 200,000 vehicles after January 1, 2010. After that, the credit will begin to phase out starting January 1 of the second calendar year after the 200,000 mark is reached. To claim the credit, complete Form 8936 and attach it to your tax return. Provide the make, model and year of the car along with the Vehicle Identification Number.
State Incentives for Chevy Volts
The NCSL says that 37 states offer some kind of incentives to purchase plug-ins like the Chevy Volt. Some states offer additional tax credits. These range from a low of $1,000 in Maryland to $6,000 in Colorado. State programs may provide other incentives as well. In some states, utilities must charge discounted rates for recharging during off-peak hours. Tax incentives may be available for recharging equipment.
References
Writer Bio
Based in Atlanta, Georgia, W D Adkins has been writing professionally since 2008. He writes about business, personal finance and careers. Adkins holds master's degrees in history and sociology from Georgia State University. He became a member of the Society of Professional Journalists in 2009.