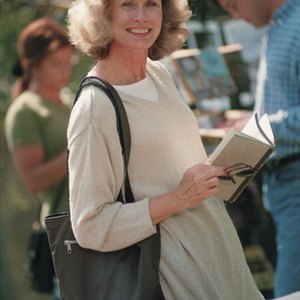 •••
Comstock/Comstock/Getty Images
A tag sale is a quick way to unload your second-hand belongings and make some cash while you're at it. Depending upon where you live, a tag sale may be called a yard sale, sidewalk sale or garage sale, and is usually held on a weekend. Selling your used items can also be beneficial to individuals who collect trinkets or for those who want to buy clothing and furnishings at greatly discounted prices. Before you start placing your items at the curb, keep in mind some tips to make your tag sale profitable and help it run as smoothly as possible.
Decide What to Sell
Look through your closets and garage. If you haven't worn it or used it in two years, sell it. According to "Real Simple" magazine, tag sale best-sellers include sporting goods items, furniture, baby items, tools and books. You also may use a simple percentage rule to help decide what to part with. Select up 10 to 20 percent of your CDs, books, clothing or trinkets that you can part with, and sell them, says Cynthia Ewer of Organized Home. If your clothing no longer fits, add it to your tag sale, but remember trendy clothing goes out of style quickly and may not sell as well.
Price Your Goods Accordingly
It's human nature to think your items are worth more than they are. Look at your items realistically and price them at approximately 25 percent of current retail prices, states "Real Simple." You should "tag" your items with stickers or price tags before the event.
Follow the Rules
With any luck, your tag sale will draw a lot of traffic to your street, and your neighbors might not love you for it. Check the local ordinances in your neighborhood to determine whether you need a permit to hold your event. Your homeowners association may also frown on holding tag sales too often or for too many consecutive days.
Timing Is Key
Unless you want to brave the crowds of bargain hunters alone, ask some friends to help you set up your event. Choose the day to have your sale, and plan on making it a one-day event, says Ewer. Early birds like to show up several hours before a tag sale's scheduled start time. While this can be an annoying interference in setting up your goods, consider charging an extra fee so those shoppers can have the first pick of your stuff.
Advertise Your Event
The key to success is a lot of traffic. A week before your sale, advertise in local papers or online and place signs around the neighborhood. If a lot of people show up, the competitive spirit typically comes out in buyers. They may snap up an item just because they don't want it to get away. Use the words that buyers want to hear, such as "tools," "baby items" and "furniture" or recognizable brand names.
Call It a Day
Tag sales can be exhausting. Establish an ending time for your sale, and if you still have traffic driving by, offer your goods at half-price. If you have items left from your sale, you don't want to cart them back into the house and put them all away. Instead, pack them up, and haul them to a thrift store or donate them to charity for a tax deduction.
References
Writer Bio
Elle Smith has been an advertising professional for more than 25 years. Her work for ABC, CBS and Sony Pictures Television has appeared on radio, on air, in print and outdoors. In addition, Smith has more than 20 years experience in marketing, graphic arts, commercial photography and print production, and is a licensed real estate agent with property management certification in California.