•••
skhoward/iStock/Getty Images
The Social Security Administration oversees the Social Security Disability program, including benefits for children. As of September 2009, the Social Security Administration reports approximately 3.8 million children in the United States receive money from Social Security Disability, totaling about $1.6 billion monthly. The monthly payments assist in providing for necessities in daily life when a parent or guardian becomes disabled.
Qualified Children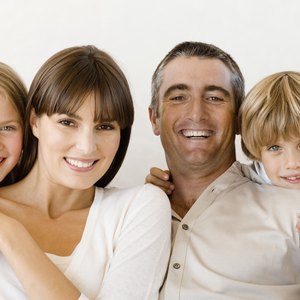 •••
skhoward/iStock/Getty Images
A child is entitled to Social Security Disability when her biological or adopted parent or step-parent is disabled and cannot work to earn an income. Qualifications to receive children's benefits include a parent who is retired or disabled and who qualifies for Social Security benefits, or a deceased parent who was employed long enough to earn Social Security benefits. The child must also be under the age of 19 and a full-time high school student, or over 18 if he is disabled.
Eligible Children
•••
skhoward/iStock/Getty Images
The Social Security Administration considers adopted children, step-children and grandchildren eligible for disability benefits in some situations. An adopted child is eligible for benefit payments even if adopted after the adoptive parent began receiving Social Security Disability payments. Stepchildren also are eligible for disability payments based on a disabled step-parent as long as the child is a dependent of the adult and the step-relationship has been established for at least one year prior to applying for child's benefits. If the marriage between the biological parent and step-parent ends in divorce, the child's benefits end the month the divorce is finalized.
Application For Child's Benefits
•••
skhoward/iStock/Getty Images
Applying for child's benefits from the Social Security Disability program requires the child's birth certificate as well as the Social Security numbers of both the parents, step-parents or grandparents and the child. Applications for child's survivor benefits also requires proof of the parent's death, while those applying for disability benefits for the child must furnish medical records as evidence of the disability.
Amount Of Benefits
•••
skhoward/iStock/Getty Images
A qualified child may receive up to one-half of the amount of the parent's, step-parent's or grandparent's full retirement or disability benefit amount. Children applying for survivor's benefits will receive 75 percent of the basic Social Security benefit. The Social Security Administration does, however, limit the total amount each family can receive from child's benefits. As of 2010, the maximum a family may receive per month is 150 to 180 percent of the parent's, grandparent's or step-parent's full benefit amount. If the total amount exceeds that limit, each child's benefit payment is reduced accordingly.
References
Writer Bio
Stephanie Steensma began writing in 1998 as a radio news reporter. Her work has appeared in print publications such as "Engineering Today" and "Dome Magazine" as well as online. Steensma has a Bachelor of Arts in communication and journalism from Western Michigan University.