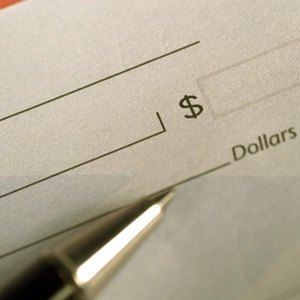 Having your bills automatically withdrawn from your checking account or charged to your credit card can free you from the hassle of keeping track of due dates, save you the time of preparing the payment and save the cost of postage. Many banks and credit unions offer a free online bill payment service as a courtesy to the customers and many utility companies, credit card companies and other companies will set up your account to automatically withdraw payments as well.
Automatic Bill Pay By Bank
Contact your bank or credit union to see if online bill payment is a service offered. If you are already registered for online access with your bank, log in and see if you can locate the option to sign up.
Gather the bills you would like to set up on automatic payment. Setting up automatic payments through your bank are best for amounts that do not change monthly. If using the service through your bank for changing monthly payments such as a utility bill, you will need to closely monitor the account to change the next payment as needed.
Log into the bank website and follow the instructions given by the bank to locate the bill pay option. Enter in your bills following the prompts. You should be asked to enter the name of the person you are sending money to, the address to send the payment, the amount to send and the date the payment should be sent.
Follow up with the creditors the first month to make sure there weren't any issues with the payment arriving.
Automatic Bill Pay by Creditor
Contact the creditor and ask if automatic bill pay is a service that is offered. If offered, ask what are the options for signing up. Can you sign up online? Do you need to fill out a form?
Go to the website address if you can fill out the request for automatic bill pay online or complete the form if required. You will be asked to provide either the bank account information to include the routing number and account number or the credit card number if you will be paying via credit or debit card. Additionally, provide the date you wish payment to be made and the amount.
Monitor the account to make sure the payment is made on the correct date. If the automatic bill payment is for a credit card, it is important to make sure the payment goes through by the due date to avoid a late payment.
References
Writer Bio
Living in Denver, Lynndee Marooney has been writing finance and credit-related articles, guides, manuals and e-books for private companies since 1995. She holds a Bachelor of Arts in journalism and a Bachelor of Science in finance from the University of Maryland. She enjoys counseling clients who are experiencing financial difficulties.