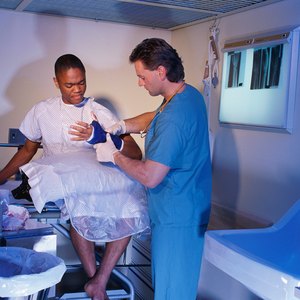 •••
Stockbyte/Stockbyte/Getty Images
Short-term disability insurance protects your income if you are unable to work due to an illness or injury sustained outside of work. Although insurance plans differ, pre-existing conditions are routinely covered. However, you may have a waiting period before they are covered under your plan.
Purpose of Short-Term Disability Insurance
Short-term disability insurance pays a percentage of your salary when you are temporarily unable to work because of acquiring a disability that is not work-related. Although insurance plans differ, the disability could be due to physical disease, mental disorder, pregnancy, accident, illness or injury.
Benefit Amount and Duration
Short-term disability insurance is exactly that: short-term. Although policies differ, benefits can last for a few months up to two years. Benefit amounts are also flexible, ranging from 40 to 80 percent of a worker's salary.
Pre-Existing Conditions Not Barred
A pre-existing condition is one that you have previously received consultation, medical treatment, care or medicine for. Whether your pre-existing condition will be covered depends on the terms of your short-term disability plan. However, many plans do not exclude such conditions. Some plans, however, may require you to wait a certain period of time, such as 12 months, from the policy issue date before your pre-existing condition is covered by the insurance plan.
Elimination Period
Short-term disability insurance often comes with an elimination period. This is the amount of time you must wait after becoming disabled before the insurance company will issue benefit payments. The elimination period may differ depending on how you became disabled, such as an accident versus illness. Elimination periods can be as little as zero days to as much as 120 days.
References
Writer Bio
Based on the West Coast, Mary Jane Freeman has been writing professionally since 1994, specializing in the topics of business and law. Freeman's work has appeared in a variety of publications, including LegalZoom, Essence, Reuters and Chicago Sun-Times. Freeman holds a Master of Science in public policy and management and Juris Doctor. Freeman is self-employed and works as a policy analyst and legal consultant.