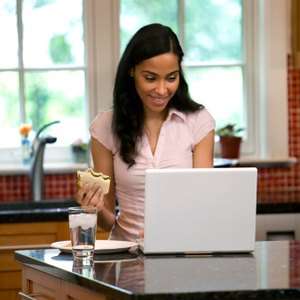 •••
David Sacks/Lifesize/Getty Images
E-Trade is a company that allows consumers to invest in stocks, bonds and other investment accounts. Once you have an account with E-Trade, you are free to purchase stocks, invest in your retirement and trade stocks. The purpose of E-Trade is to allow you to participate in the stock market and manage your account yourself, rather than with a broker. Once you decide to invest with E-Trade, you must make a decision as to what type of account you want to create, such as an investing and trading account or a retirement account.
Click on the "Open an Account" link on the main page of the E-Trade website to set up your new E-Trade account.
View the types of accounts available to consumers, such as retirement accounts and investment accounts, then choose the one you want to open. Click the "Apply Now" link associated with the type of account you want to set up.
Provide your first and last name, email address and the account type you want to open. Provide your Social Security Number, date of birth, address and your employment information.
Enter your credit card number or bank account information to make your initial investment; the amount you are required to pay to set up your account depends on the type of account you choose. Select the specific features you want your E-Trade account to include, such as whether or not it is a joint account.
Confirm your information and submit your application to complete the account setup process.
References
Writer Bio
Tiffany Raiford has several years of experience writing freelance. Her writing focuses primarily on articles relating to parenting, pregnancy and travel. Raiford is a graduate of Saint Petersburg College in Florida.