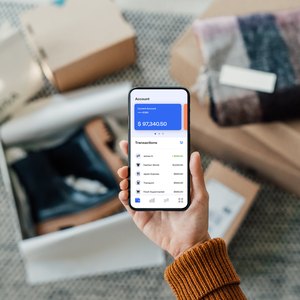 •••
Oscar Wong/Moment/GettyImages
According to a 2020 survey conducted by Morning Consult on behalf of the American Bankers Association, nearly three-quarters of Americans go online to access their bank accounts. Around ​32 percent​ use a laptop or PC to conduct their banking activities, ​39 percent​ use mobile apps on a smartphone or tablet and only ​10 percent​ use branch banking.
As a result of the increasing interest in using mobile apps for banking, financial institutions have upgraded their banking apps and made them more secure, sophisticated and user-friendly. TD Bank has created one of the most convenient online banking apps with its EasyWeb platform.
How to Register for a TD EasyWeb Account
To register for EasyWeb, you must be:
a personal banking customer of TD Bank.
at least 18 years of age.
a Canadian resident.
Follow these steps to register:
​Step 1:​ Go to the EasyWeb registration page.

Select the checkbox option to set up a new EasyWeb login ID and password.
Click "Continue."

​Step 2​: Complete the form with your personal information including your name, date of birth and postal code.
​Step 3:​ Review the online authentication and select the checkbox option to consent to third-party identity authentication.
​Step 4:​ Create a username and password.
​Step 5:​ Review your information and if all is correct, click "Continue" to complete the registration.
Once you have completed your online registration, you should try to login to EasyWeb using your username and password to be sure everything is working properly.
Review Your Transactions
It's always a good idea to frequently review the transactions in your bank accounts. You'll want to check to make sure that deposits have cleared or if unauthorized transactions have occurred. If you see any transactions that you don't recognize, you'll want to report these immediately.
Another advantage to instant mobile access is to be able to check your balances when you're out. For example, suppose you're out shopping and want to be sure you have enough funds in your account to cover your purchases so you don't overdraw and incur annoying overdraft fees. With EasyWeb, you can check your account balance and then transfer funds immediately to avoid any fees.
It's also a good idea to periodically review the payment history for each payee that you have on your bill payer list.
Make Deposits
With EasyWeb, you no longer have to physically go to your bank and stand in line to deposit a check. EasyWeb lets you make a deposit by taking a picture of the front and back of the check with the camera on your cellphone. The app will read this information on the check and make the deposit.
If you are working for a business, you will more than likely be paid with direct deposit. In most cases, funds are immediately available with payroll deposits.
Pay Bills Online
Paying bills online eliminates the need to sit down and write a check, find a postage stamp, address an envelope and put the check in the mail. All you have to do is set up the name and mailing address of the vendor you want to pay one time, and after that, you just simply enter the amount and click "Submit." The bank will prepare and mail a check drawn on your account and, in most cases, the recipient will have the check within five business days.
Want to make sure your payments are always on time? With EasyWeb, you can set up recurring payments. This feature is especially for making payments that are the same amount every month, like your car payment or mortgage payment.
Another option is to authorize a payee to debit your account each month with the amount of the payment. You can use this feature for bills such as utilities. You can set up this option by going to the company's website and selecting the option for making automatic payments. It will ask you to enter your account number and the bank's routing number.
You can also arrange with your vendors to have your bills sent to you electronically.
If you need to stop payment on a check for some reason, you can also do this through the EasyWeb app.
Transfer Between Your Accounts
Part of your personal financial plan should be to regularly set aside funds for specific purposes like creating an emergency fund, saving money for college expenses, taking a vacation, accumulating money to make a down payment on a house and building a retirement fund.
You could set up separate savings accounts for your major financial goals and then make regular deposits. For example, on a monthly basis, you could put aside ​$100​ for college, ​$75​ for vacation and ​$150​ towards retirement. If you set up the app to make these transfers automatically, you'll be surprised how fast the amounts accumulate.
If both you and your spouse have checking accounts with TD Bank, another convenience is the ability to transfer funds instantaneously between the accounts as you need them. Suppose the balance in one of your accounts is low and you need to transfer funds to cover an automatic debit like a car payment. All you have to do is open up the EasyWeb app on your smartphone, select the accounts and amount to transfer, make a few taps and it's done.
If you're transferring money to one of your accounts at another bank, it could take up to three business days to receive cleared funds.
Send Money
EasyWeb lets you send money with Interac e-Transfer to another person or vendor in Canada. All you need is their email address or mobile number and a bank account at a Canadian financial institution. Recipients are usually notified within a minute by text or email when you send the money.
If you're traveling out of the country and need foreign currency, TD Bank has foreign exchange services available. You can also transfer funds in foreign currencies.
Security
Nevertheless, you should also make sure that you're connected over a secure internet connection and not using a public Wi-Fi system when banking.
References
Resources
Tips
Small business customers must call (866) 222-3456 or visit a TD Canada Trust branch to sign up for EasyWeb banking.
Writer Bio
James Woodruff has been a management consultant to more than 1,000 small businesses. As a senior management consultant and owner, he used his technical expertise to conduct an analysis of a company's operational, financial and business management issues. James has been writing business and finance related topics for work.chron, bizfluent.com, smallbusiness.chron.com and e-commerce websites since 2007. He graduated from Georgia Tech with a Bachelor of Mechanical Engineering and received an MBA from Columbia University.