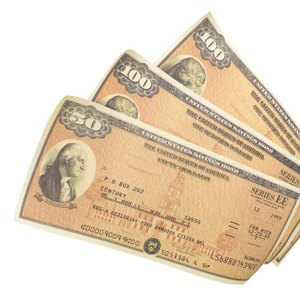 •••
Comstock/Comstock/Getty Images
Series EE savings bonds earn interest on a monthly basis, but the U.S. Treasury does not send you a statement listing the value of your bonds. The Treasury does provide several online tools which will help keep track of series EE savings bond values. Use the Treasury resources to keep the value of your savings bond portfolio up to date.
Series EE Bond Prices and Interest
Paper certificate series EE bonds are purchased for one-half the denomination amount. For example, a $200 bond costs $100. Currently issued EE bonds earn a fixed rate of interest for the life of the bond. Interest accrues every month and is compounded every six months. The interest earned by an EE bond accumulates to provide the current value of the bond. EE bonds will continue to earn interest for up to 30 years.
Online Bond Calculator
The savings bond calculator can be found in the Tools section of the Treasury Direct website. Select "Savings Bond Calculator" from the Tools menu and then "Get Started" on the calculator web page. The calculator has boxes for the entry of the savings bond type, denomination, serial number and issue date. Hints for using the calculator: The issue date is entered as the month plus 4-digit year; using 112001 will work, as will 11/2001, for November 2001. It is not necessary to enter the serial number. You can enter multiple savings bonds, one after the other, and all values will list and total on the calculator web page.
Savings Bond Tracking Software
The Savings Bond Wizard is savings bond value software you can download from the Tools section of the Treasury Direct website. Download and install the software on your personal computer, then enter your savings bond date. The Savings Bond Wizard will calculate the value of your bonds and update the values every month. You must use the automatic update tool in the software in May and November to update for the new interest rates declared in those months.
Savings Bond Denomination Guarantee
Savings bonds are guaranteed to reach the denomination amount, a double of the original investment, in no more than 20 years. If a bond has not doubled in value by 20 years, the Treasury will make a one-time interest credit to bring the bond up to the guaranteed value. Series EE bonds earning less than a 3.5 percent rate will need the extra interest credit to reach the guarantee value.
References
Writer Bio
Tim Plaehn has been writing financial, investment and trading articles and blogs since 2007. His work has appeared online at Seeking Alpha, Marketwatch.com and various other websites. Plaehn has a bachelor's degree in mathematics from the U.S. Air Force Academy.