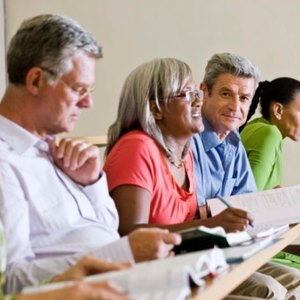 •••
Jupiterimages/BananaStock/Getty Images
Senior citizens, who are generally above 60 years of age, may decide they either want to return to college to obtain a second degree, earn a first degree or gain valuable skills that might be hobby- or job-related. There are many college grants and scholarships available to senior citizens in these situations. Some scholarship programs may require demonstrated financial need, but many only require that senior citizens are of a certain age, live in a specific state or attend a particular university.
Federal Grants
The first place to look for college grants is with the federal government. Federal programs such as the Free Application for Federal Student Aid, or FAFSA, the National Science & Mathematics Access to Retain Talent Grant and the Pell Grant are available to U.S. citizens of all ages, including senior citizens. Eligibility requirements vary for these scholarships. For example, the Pell Grant is awarded to students who demonstrate financial need, while the National Science & Mathematics Access to Retain Talent Grant is only open to students who are majoring in a math- or science-related field.
Senior Women Scholarships
Some scholarship programs are offered only to older women. These programs, such as the American Association of Retired Persons, or AARP, and the Jeanette Rankin Women's Scholarship Fund, offer assistance to older women to "break the cycle of poverty" and use education to secure eventual retirement. For example, the AARP Women's Scholarship Program awards scholarships between $500 to $5,000 each to low-income senior citizen women. According to the AARP's website, the organization awarded nearly $500,000 worth of education grants to 200 applicants in 2010.
State Grants
Certain states offer partial tuition reimbursements to resident senior citizens who attend public colleges and universities. These states include Connecticut, Maine, Nebraska, Kentucky, New Mexico, Vermont, Minnesota, Colorado, Alabama, South Carolina and Wyoming. Some states offer full tuition reimbursement to senior citizens attending public schools, so contact your state's office of education for details. Space in these programs may vary from state to state, but all applicants who are 60 years of age or older are eligible to apply.
Individual University Grants
Specific universities across the United States offer both full and partial tuition scholarships to senior citizen students. These institutions include the University of Delaware, Purdue University, Hostos College, San Antonio College, Rutgers University, University of Nevada, University of Alaska, University of New Hampshire, University of Louisville and the University of Arkansas. Contact the admissions office of the university you wish to attend and inquire about any special tuition discount programs they may offer to senior citizens.
References
Writer Bio
Crystal Vogt has been an editor and freelance writer since 2005 and has had her work mentioned on MediaBistro, Yahoo! Finance and MSN Money, among other outlets. She received her M.S. in journalism from Boston University and holds a B.A. in English from UC Santa Barbara.